01.12.2017 | Research | Ausgabe 1/2017 Open Access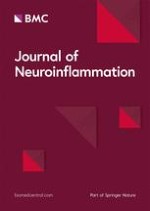 Microglia-derived IL-1β contributes to axon development disorders and synaptic deficit through p38-MAPK signal pathway in septic neonatal rats
Zeitschrift:
Autoren:

Qianpeng Han, Qiongyu Lin, Peixian Huang, Mengmeng Chen, Xin Hu, Hui Fu, Shaoru He, Fengcai Shen, Hongke Zeng, Yiyu Deng
Wichtige Hinweise
Electronic supplementary material
The online version of this article (doi:
10.​1186/​s12974-017-0805-x
) contains supplementary material, which is available to authorized users.
Abstract
Background
Axon development plays a pivotal role in the formation of synapse, nodes of Ranvier, and myelin sheath. Interleukin-1β (IL-1β) produced by microglia may cause myelination disturbances through suppression of oligodendrocyte progenitor cell maturation in the septic neonatal rats. Here, we explored if a microglia-derived IL-1β would disturb axon development in the corpus callosum (CC) following lipopolysaccharide (LPS) administration, and if so, whether it is associated with disorder of synapse formation in the cerebral cortex and node of Ranvier.
Methods
Sprague-Dawley rats (1-day old) in the septic model group were intraperitoneally administrated with lipopolysaccharide (1 mg/kg) and then sacrificed for detection of IL-1β, interleukin-1 receptor (IL-1R1), neurofilament-68, neurofilament-160, and neurofilament-200, proteolipid, synaptophysin, and postsynaptic density 95 (PSD95) expression by western blotting and immunofluorescence. Electron microscopy was conducted to observe alterations of axonal myelin sheath and synapses in the cortex, and proteolipid expression was assessed using in situ hybridization. The effect of IL-1β on neurofilament and synaptophysin expression in primary neuron cultures was determined by western blotting and immunofluorescence. P38-MAPK signaling pathway was investigated to determine whether it was involved in the inhibition of IL-1β on neurofilament and synaptophysin expression.
Results
In 1-day old septic rats, IL-1β expression was increased in microglia coupled with upregulated expression of IL-1R1 on the axons. The expression of neurofilament-68, neurofilament-160, and neurofilament-200 (NFL, NFM, NFH) and proteolipid (PLP) was markedly reduced in the CC at 7, 14, and 28 days after LPS administration. Simultaneously, cortical synapses and mature oligodendrocytes were significantly reduced. By electron microscopy, some axons showed smaller diameter and thinner myelin sheath with damaged ultrastructure of node of Ranvier compared with the control rats. In the cerebral cortex of LPS-injected rats, some axo-dendritic synapses appeared abnormal looking as manifested by the presence of swollen and clumping of synaptic vesicles near the presynaptic membrane. In primary cultured neurons incubated with IL-1β, expression of NFL, NFM, and synaptophysin was significantly downregulated. Furthermore, p38-MAPK signaling pathway was implicated in disorder of axon development and synaptic deficit caused by IL-1β treatment.
Conclusions
The present results suggest that microglia-derived IL-1β might suppress axon development through activation of p38-MAPK signaling pathway that would contribute to formation disorder of cortical synapses and node of Ranvier following LPS exposure.