01.12.2017 | Research | Ausgabe 1/2017 Open Access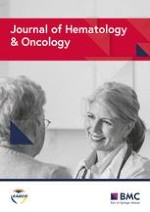 miR-380-5p-mediated repression of TEP1 and TSPYL5 interferes with telomerase activity and favours the emergence of an "ALT-like" phenotype in diffuse malignant peritoneal mesothelioma cells
Zeitschrift:
Autoren:

Graziella Cimino-Reale, Paolo Gandellini, Francesca Santambrogio, Marta Recagni, Nadia Zaffaroni, Marco Folini
Wichtige Hinweise
Electronic supplementary material
The online version of this article (doi:
10.​1186/​s13045-017-0510-3
) contains supplementary material, which is available to authorized users.
Abstract
Background
Understanding the molecular/cellular underpinnings of diffuse malignant peritoneal mesothelioma (DMPM), a fatal malignancy with limited therapeutic options, is of utmost importance for the fruitful management of the disease. In this context, we previously found that telomerase activity (TA), which accounts for the limitless proliferative potential of cancer cells, is prognostic for disease relapse and cancer-related death in DMPM patients. Consequently, the identification of factors involved in telomerase activation/regulation may pave the way towards the development of novel therapeutic interventions for the disease. Here, the capability of miR-380-5p, a microRNA negligibly expressed in telomerase-positive DMPM clinical specimens, to interfere with telomerase-mediated telomere maintenance and, hence, with cancer cell growth was assessed on preclinical models of DMPM.
Methods
DMPM cells were transfected with a miR-380-5p synthetic precursor, and the effects of miRNA replacement were evaluated in terms of growing capability, induction of apoptosis and interference with TA. Reiterated weekly transfections were also performed in order to analyse the phenotype arising upon prolonged miR-380-5p reconstitution in DMPM cells.
Results
The ectopic expression of miR-380-5p elicited a remarkable inhibition of TA and resulted in DMPM cell growth impairment and apoptosis induction. In particular, we demonstrated for the first time that these effects were the result of a molecular circuitry converging on telomerase associated protein 1 (TEP1), where the miRNA was able to target the gene both directly in unconventional targeting modality and indirectly via p53 accumulation consequent to miRNA-mediated downregulation of testis-specific protein, Y-encoded-like 5 gene. Moreover, miR-380-5p did not cause telomere attrition and cell growth arrest in long-term DMPM transfectants, which in turn showed slightly elongated telomeres and molecular features (e.g. c-circle DNA and reduced expression levels of chromatin remodeler ATRX) resembling an alternative lengthening of telomeres (ALT) phenotype.
Conclusions
miR-380-5p interferes with TA in DMPM cells by targeting TEP1. Notably, in the long-term setting, miR-380-5p-mediated impairment of TA did not result in telomere attrition. Instead, a phenotype reminiscent of ALT emerged in DMPM cells as possible compensatory pathway that safeguards DMPM cell growth, an event that may be regarded as a potential resistance mechanism to anticancer therapies based on telomerase inhibitors.