01.08.2011 | Research article | Ausgabe 4/2011 Open Access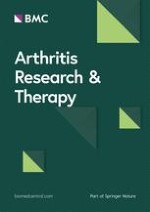 Modulation of interleukin-1β-induced inflammatory responses by a synthetic cationic innate defence regulator peptide, IDR-1002, in synovial fibroblasts
Zeitschrift:
Autoren:

Emily Turner-Brannen, Ka-Yee Choi, Dustin ND Lippert, John P Cortens, Robert EW Hancock, Hani El-Gabalawy, Neeloffer Mookherjee
Wichtige Hinweise
Electronic supplementary material
The online version of this article (doi:
10.​1186/​ar3440
) contains supplementary material, which is available to authorized users.
Competing interests
The authors declare that they have no competing interests.
Authors' contributions
ETB performed all experiments, except proteomics and microscopy, and contributed to writing the manuscript. KGC performed all experiments, except proteomics and microscopy. DNDL performed the microscopy experiments. JPC performed the computational analysis for the proteomics data. REWH provided the IDR-1002 peptide and edited the manuscript. HEG provided tissues for isolation of human FLS, provided intellectual input, and edited the manuscript. NM conceived the study, performed the proteomics iTRAQ experiments, and wrote the manuscript. All authors contributed to the conception and/or acquisition of data and analysis for this project, and to either drafting or revising the manuscript.
Abstract
Introduction
Innate defence regulator (IDR) peptides are synthetic cationic peptides, variants of naturally occurring innate immune effector molecules known as host defence peptides. IDR peptides were recently demonstrated to limit infection-associated inflammation selectively without compromising host innate immune functions. This study examined the impact of a 12-amino acid IDR peptide, IDR-1002, in pro-inflammatory cytokine interleukin (IL)-1β-induced responses in synovial fibroblasts, a critical cell type in the pathogenesis of inflammatory arthritis.
Methods
Human fibroblast-like synoviocytes (FLS) were stimulated with IL-1β in the presence and absence of IDR-1002. Production of enzyme matrix metalloproteinase-3 (MMP-3) and IL-1-receptor antagonist (IL-1RA) was monitored by enzyme-linked immunosorbent assay (ELISA), and various chemokines were evaluated by using multiplex cytometric bead array. Transcriptional responses were analyzed by quantitative real-time PCR. The impact on IL-1β-induced proteome was investigated by quantitative proteomics by using isobaric tags. IL-1β-induced pathways altered by IDR-1002 implicated by the proteomics analyses were further investigated by using various immunochemical assays. Cellular uptake of the peptide was monitored by using a biotinylated IDR-1002 peptide followed by microscopy probing with streptavidin-Alexa Fluor.
Results
This study demonstrated that IDR-1002 suppressed the production of IL-1β-induced MMP-3 and monocyte chemotactic protein-1 (MCP-1); in contrast, IDR-1002 enhanced the production of IL-1RA, without neutralizing all chemokine responses. IDR-1002 altered the IL-1β-induced proteome primarily by altering the expression of members of nuclear factor kappa-B (NF-κB) and c-Jun N-terminal kinase (JNK) pathways. The proteomics data also suggested that IDR-1002 was altering the transcription factor HNF-4α-mediated responses, known to be critical in metabolic regulation. With various immunochemical assays, it was further demonstrated that IL-1β-induced NF-κB, JNK, and p38 mitogen-activated protein kinase (MAPK) activations were significantly suppressed by IDR-1002.
Conclusions
This study demonstrates the ability of an innate immune-modulatory IDR-peptide to influence the IL-1β-induced regulatory pathways and selectively to suppress inflammatory responses in synovial fibroblasts. The results of this study provide a rationale for examining the use of IDR-peptides as potential therapeutic candidates for chronic inflammatory diseases such as inflammatory arthritis.