04.11.2017 | Original Article | Ausgabe 1/2018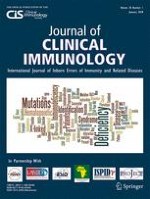 Modulation of the Interleukin-21 Pathway with Interleukin-4 Distinguishes Common Variable Immunodeficiency Patients with More Non-infectious Clinical Complications
Zeitschrift:
Autoren:

Marylin Desjardins, Marianne Béland, Marieme Dembele, Duncan Lejtenyi, Jean-Phillipe Drolet, Martine Lemire, Christos Tsoukas, Moshe Ben-Shoshan, Francisco J. D. Noya, Reza Alizadehfar, Christine T. McCusker, Bruce D. Mazer
Wichtige Hinweise
Electronic supplementary material
Abstract
Purpose
Common variable immunodeficiency (CVID) is characterized by hypogammaglobulinemia and clinical manifestations such as infections, autoimmunity, and malignancy. We sought to determine if responsiveness to interleukin-21 (IL-21), a key cytokine for B cell differentiation, correlates with distinct clinical phenotypes in CVID.
Methods
CVID subjects were recruited through the Canadian Primary Immunodeficiency Evaluative Survey registry. Peripheral blood mononuclear cells were cultured with anti-CD40 ± interferon-gamma, interleukin-4 (IL-4), IL-21, and/or IL-4+IL-21. B cell subpopulations and IgG production were determined at baseline and day 7 by flow cytometry and ELISA. Clinical complications were compared using contingency tables.
Results
CVID subjects exhibited decreased CD27
+
B cells and IgG production after 7 days of stimulation with anti-CD40+IL-21 (
p
< 0.05). In a subset of subjects [CVID responders (R)], the addition of IL-4 led to significant increases in CD27
+
B cells and IgG (
p
< 0.05). In CVID non-responders (NR), CD27
+
B cells and IgG remained lower despite the addition of IL-4. CVID NR experienced significantly more non-infectious clinical complications of CVID than R [OR 8.8, 95% confidence interval (CI) 1.6 to 48.13]. Previous studies reported that CVID subjects with ≤ 2% class-switched memory B cells were more at risk of these complications, but no significant association was found among this cohort of subjects [OR 3.5, CI 0.9 to 13.3]. In fact, 34.6% of CVID NR had > 2% class-switched memory B cells at baseline.
Conclusions
The IL-4 and IL-21 in vitro assays distinguish two groups of CVID subjects and can be used with baseline B cell subpopulation phenotyping to better identify patients experiencing more vs. fewer clinical non-infectious complications and potentially to modulate therapy.