28.08.2018 | Original Article | Ausgabe 6/2018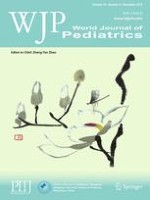 Molecular and epidemiologic characterization of Wilms tumor from Baghdad, Iraq
Zeitschrift:
Autoren:

Hannah M. Phelps, Mazin F. Al-Jadiry, Natasha M. Corbitt, Janene M. Pierce, Bingshan Li, Qiang Wei, Raina R. Flores, Hernan Correa, Stefania Uccini, Haydar Frangoul, Adel R. Alsaadawi, Safaa A. F. Al-Badri, Amir F. Al-Darraji, Raghad M. Al-Saeed, Salma A. Al-Hadad, Harold N. Lovvorn III
Abstract
Background
Wilms tumor (WT) is the most common childhood kidney cancer worldwide, yet its incidence and clinical behavior vary according to race and access to adequate healthcare resources. To guide and streamline therapy in the war-torn and resource-constrained city of Baghdad, Iraq, we conducted a first-ever molecular analysis of 20 WT specimens to characterize the biological features of this lethal disease within this challenged population.
Methods
Next-generation sequencing of ten target genes associated with WT development and treatment resistance (
WT1, CTNNB1, WTX, IGF2, CITED1, SIX2, p53, N
-
MYC, CRABP2,
and
TOP2A
) was completed. Immunohistochemistry was performed for 6 marker proteins of WT (WT1, CTNNB1, NCAM, CITED1, SIX2, and p53). Patient outcomes were compiled.
Results
Mutations were detected in previously described WT "hot spots" (e.g.,
WT1
and
CTNNB1
) as well as novel loci that may be unique to the Iraqi population. Immunohistochemistry showed expression domains most typical of blastemal-predominant WT. Remarkably, despite the challenges facing families and care providers, only one child, with combined
WT1
and
CTNNB1
mutations, was confirmed dead from disease. Median clinical follow-up was 40.5 months (range 6–78 months).
Conclusions
These data suggest that WT biology within a population of Iraqi children manifests features both similar to and unique from disease variants in other regions of the world. These observations will help to risk stratify WT patients living in this difficult environment to more or less intensive therapies and to focus treatment on cell-specific targets.