18.02.2019 | Sleep Breathing Physiology and Disorders • Original Article | Ausgabe 4/2019 Open Access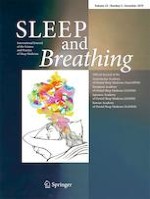 Monocytic C-C chemokine receptor 5 expression increases in in vitro intermittent hypoxia condition and in severe obstructive sleep apnea patients
Zeitschrift:
Autoren:

Li-Pang Chuang, Ning-Hung Chen, Shih-Wei Lin, Han-Chung Hu, Kuo-Chin Kao, Li-Fu Li, Cheng-Ta Yang, Chung-Chi Huang, Jong-Hwei S. Pang
Wichtige Hinweise
Publisher's note
Springer Nature remains neutral with regard to jurisdictional claims in published maps and institutional affiliations.
Introduction
Materials and methods
Materials
As described in detail previously [
18
], THP-1 cells, the human monocytic leukemia cells purchased from ATCC, were cultured in RPMI 1640 medium containing 10% FBS and antibiotics. Vascular endothelial cells isolated from human umbilical vein (HUVECs) were purchased from BCRC (Taiwan, ROC) and grown in EGM provided by Clonetics Inc. (MD, USA). Monoclonal anti-CCR5 was purchased from Epitomics Inc. (CA, USA). Recombinant RANTES was obtained from R&D Systems (MN, USA).
Normoxia and intermittent hypoxia culture conditions
As described in detail previously [
18
], 1 × 10
6
cells/ml human blood monocytes or THP-1 cells were cultured in RPMI 1640 medium. Experimental condition was set up in a modified Hyper-Hypo Oxygen System developed by NexBioxy. (Taipei, Taiwan). Cells were cultured in normoxia or intermittent hypoxia following the detailed conditions described in previous studies [
18
,
19
]. Cells were maintained in standard culture incubator for another 18 h and then harvested for following experiments.
RNA isolation and RT/real-time PCR
Total RNA was extracted from THP-1 cells using TRIzol™ reagent following manufacturer's protocol [
20
]. Total cellular RNA was applied to synthesize cDNA by M-MLV reverse transcriptase (USB Corporation, OH, USA). Primers used for PCR were forward primer for CCR5, 5′-GCTGTGTTTGCGTCTCTCCCAGGA-3′, reverse primer for CCR5, 5′-CTCACAGCCCTGTGCCTCTTCTTC-3′; forward primer for GAPDH, 5′-GACCTGACCTGCCGTCTA-3′, reverse primer for GAPDH, 5′-AGGAGTGGGTGTCGCTGT-3′. Real-time PCR was performed following the protocol described in our previous study [
18
].
Western blot analysis
Proteins prepared from cell membrane were used for western blot analysis, and monoclonal antibody against CCR5 was applied as described previously [
18
]. The band density was measured by the 1D Digital Analysis Software, Kodak Digital Science™ (Eastman Kodak, NY, USA). Normalized data were expressed as 100% in normoxia control group.
Migration assay and cell adhesion assay
The chemotaxis assay used transwell inserts with 8 μm membrane pores (Costar, Cambridge, MA), with lower chamber containing 30 ng/ml RANTES and monocytes set to migrate for 1 h as described previously [
18
].
Clinical patients
By screening patients of possible OSA in our sleep center, a total of 72 adults (> 20 years old) patients were included. The exclusion criteria were as follows: chronic or recently diagnosed inflammatory or infectious condition such as invasive surgical/medical/dental procedure, trauma and asthma; the use of antibiotics or anti-inflammatory drugs within recent 1 month; and the existence of hypertension, coronary heart disease, hyperlipidemia, cerebrovascular disease, diabetes, or renal disease. This study was agreed by the Institutional Review Board of Chang Gung Memorial Hospital (No.100-3166B), and informed consent in written form was acquired from every patient before the study.
Polysomnography
Standard overnight polysomnography (PSG) was performed using the Siesta Physiological Monitoring System (Abbotsford, Australia) in Chang Gung Memorial Hospital sleep center. Respiratory movements of the abdomen and chest were detected by inductive plethysmography bands. Air flow from mouth and nose was measured by thermistors. The oxygen saturation (SpO
2
) from artery was monitored transcutaneously with pulse oximetry which is hooked on the fingertip. Apnea events were defined as described in our previous study [
18
]. The severity of OSA was estimated by AHI (normal: AHI ≦ 5; mild: 5 < AHI ≦ 15; moderate: 15 < AHI ≦ 30; and severe: AHI > 30). The oxygen desaturation index (ODI) was calculated by dividing the number of the arterial oxygen level drops more than 3% from baseline by the hours of estimated total sleep time.
Peripheral blood drawling and monocyte isolation
Statistical analysis
Non-parametric test using Wilcoxon signed-rank test was used for analysis of the difference of mRNA or protein expression. One-way analysis of variance (ANOVA) was applied for analysis of the difference of parametric data of three or more groups. Correlations and multiple regression analyses were applied to verify the relationship between CCR5 expression with AHI, ODI, BMI, and age. The statistical analysis was carried out with the software from SPSS (Chicago, USA). The data was expressed as mean ± SEM, and a
p
value ≦ 0.05 was used to show statistical significance.
Results
Discussion
We demonstrated in the present study that intermittent hypoxia can stimulate the monocytes to actively express CCR5 at both the membrane protein levels and mRNA, which subsequently increased the migratory ability of monocytes toward RANTES and adhesion to endothelial cell. Besides, the p44/42 MAPK pathway was demonstrated to contribute to the activation of monocytes by intermittent hypoxia. Furthermore, increased monocytic CCR5 expression was found in severe OSA patients.
Conclusion
This study firstly revealed that intermittent hypoxia can upregulate the CCR5 mRNA and protein levels and the chemotaxis of monocytes attracted by RANTES. Also, intermittent hypoxia is shown to promote the adhesion of monocytes to vascular endothelial cells. The p44/42 signaling pathway is confirmed to be involved in the induced CCR5 expression of monocytes by intermittent hypoxia. We also confirmed the upregulation of monocytic CCR5 gene expression in patients with severe OSA. These findings strongly imply a critical role of CCR5 and reveal mechanisms participated in enhanced monocyte adhesion and chemotaxis under intermittent hypoxia. Therefore, the suppression of intermittent hypoxia-induced CCR5 expression or to inhibit the CCR5 function by antagonists could be a reasonable method to avoid the progression of atherosclerosis in OSA patients.
Compliance with ethical standards
This study was funded by Chang Gung Memorial Hospital (CMRPD190342, CMRPD190343 and CMRPG3F0071).
Conflict of interest
The authors declare that they have no conflict of interest.
Ethical approval
Procedures carried out in studies involving human participants were according to the ethical regulation of the Institutional Review Board of Chang Gung Memorial Hospital (No.100-3166B) and with the 1964 Helsinki declaration and its later amendments or comparable ethical standards.
Informed consent
Informed consent was obtained from all individual participants included in the study.
OpenAccess
This article is distributed under the terms of the Creative Commons Attribution 4.0 International License (http://creativecommons.org/licenses/by/4.0/), which permits unrestricted use, distribution, and reproduction in any medium, provided you give appropriate credit to the original author(s) and the source, provide a link to the Creative Commons license, and indicate if changes were made.
Publisher's note
Springer Nature remains neutral with regard to jurisdictional claims in published maps and institutional affiliations.