01.12.2017 | Research | Ausgabe 1/2017 Open Access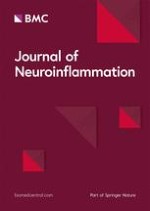 Myeloid C/EBPβ deficiency reshapes microglial gene expression and is protective in experimental autoimmune encephalomyelitis
Zeitschrift:
Autoren:

Marta Pulido-Salgado, Jose M. Vidal-Taboada, Gerardo Garcia Diaz-Barriga, Joan Serratosa, Tony Valente, Paola Castillo, Jonathan Matalonga, Marco Straccia, Josep M. Canals, Annabel Valledor, Carme Solà, Josep Saura
Wichtige Hinweise
Electronic supplementary material
The online version of this article (doi:
10.​1186/​s12974-017-0834-5
) contains supplementary material, which is available to authorized users.
Abstract
Background
CCAAT/enhancer binding protein β (C/EBPβ) is a transcription factor that regulates the expression of important pro-inflammatory genes in microglia. Mice deficient for C/EBPβ show protection against excitotoxic and ischemic CNS damage, but the involvement in this neuroprotective effect of the various C/EBPβ-expressing cell types is not solved. Since C/EBPβ-deficient microglia show attenuated neurotoxicity in culture, we hypothesized that specific C/EBPβ deficiency in microglia could be neuroprotective in vivo. In this study, we have tested this hypothesis by generating mice with myeloid C/EBPβ deficiency.
Methods
Mice with myeloid C/EBPβ deficiency were generated by crossing LysMCre and C/EBPβfl/fl mice. Primary microglial cultures from C/EBPβfl/fl and LysMCre-C/EBPβfl/fl mice were treated with lipopolysaccharide ± interferon γ (IFNγ) for 6 h, and gene expression was analyzed by RNA sequencing. Gene expression and C/EBPβ deletion were analyzed in vivo in microglia isolated from the brains of C/EBPβfl/fl and LysMCre-C/EBPβfl/fl mice treated systemically with lipolysaccharide or vehicle. Mice of LysMCre-C/EBPβfl/fl or control genotypes were subjected to experimental autoimmune encephalitis and analyzed for clinical signs for 52 days. One- or two-way ANOVA or Kruskal–Wallis with their appropriate post hoc tests were used.
Results
LysMCre-C/EBPβfl/fl mice showed an efficiency of C/EBPβ deletion in microglia of 100 and 90% in vitro and in vivo, respectively. These mice were devoid of female infertility, perinatal mortality and reduced lifespan that are associated to full C/EBPβ deficiency. Transcriptomic analysis of C/EBPβ-deficient primary microglia revealed C/EBPβ-dependent expression of 1068 genes, significantly enriched in inflammatory and innate immune responses GO terms. In vivo, microglial expression of the pro-inflammatory genes Cybb, Ptges, Il23a, Tnf and Csf3 induced by systemic lipopolysaccharide injection was also blunted by C/EBPβ deletion. CNS expression of C/EBPβ was upregulated in experimental autoimmune encephalitis and in multiple sclerosis samples. Finally, LysMCre-C/EBPβfl/fl mice showed robust attenuation of clinical signs in experimental autoimmune encephalitis.
Conclusion
This study provides new data that support a central role for C/EBPβ in the biology of activated microglia, and it offers proof of concept for the therapeutic potential of microglial C/EBPβ inhibition in multiple sclerosis.