11.08.2020 | Original Paper | Ausgabe 6/2020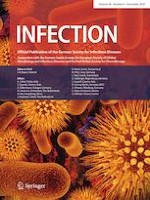 Myocarditis in admitted patients with dengue fever
Zeitschrift:
Autoren:

M. Bhatt, M. Soneja, F. A. Farooqui, P. Singla, N. K. Vikram, A. Biswas, A. Roy, N. Wig
Abstract
Purpose
Cardiac involvement in dengue fever is underdiagnosed due to low index of clinical suspicion and its contribution to hemodynamic instability in severe dengue is not well known.
Methods
A prospective observational study was conducted among admitted patients ≥ 14 years of age having confirmed dengue fever. Patients on medications affecting heart rhythm/rate, pre-existing heart disease and electrolyte abnormalities were excluded. A baseline electrocardiography (ECG), Trop-I and NT-proBNP were done for all patients. The biomarkers were measured using enzyme-linked fluorescent assay and recommended cut-off were used. Patients with elevated biomarkers underwent 2-dimensional echocardiography. Diagnosis of myocarditis was as per European Society of Cardiology (ESC) 2013 criteria.
Results
A total of 182 patients were recruited with mean age of 30 ± 12.6 years and 31% were females. Dengue with warning signs was present in 85 (47%) and severe dengue in 60 (33%) patients. ECG abnormalities were observed in 44 (24%) patients, biomarkers were elevated in 27 (15%) patients and 11 (6%) patients had echocardiographic abnormalities. According to ESC 2013 criteria, dengue fever with myocarditis was diagnosed in 13 [7.1% (95% CI 3.4–10.9)] patients. The patients with myocarditis were more likely to have shortness of breath, bleeding manifestations and higher respiratory rate at baseline. Clinical features of fluid overload were more common (69% vs. 1.7%,
p
 < 0.01) and the duration of hospital stay longer in myocarditis group (7 ± 4.3 vs. 4.8 ± 1.9 days,
p
 < 0.01).
Conclusion
Myocarditis among admitted dengue patients is not uncommon and may lead to increased morbidity.