16.03.2019 | Original article | Ausgabe 7/2019 Open Access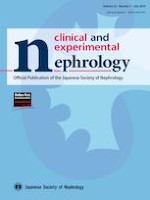 Negative impact of proteinuria on circulating myeloid dendritic cells
Zeitschrift:
Autoren:

Masato Ikeda, Risa Terashima, Taku Yamada, Masahiro Suyama, Shinya Yokote, Masatsugu Nakao, Izumi Yamamoto, Keita Hirano, Hideo Okonogi, Hiroyasu Yamamoto, Takashi Yokoo
Wichtige Hinweise
Publisher's Note
Springer Nature remains neutral with regard to jurisdictional claims in published maps and institutional affiliations.
Abstract
Background
A decrease in absolute numbers (abs.) of circulating dendritic cells (DCs) and recruitment into target organs has been reported, but whether the level of proteinuria associates with circulating DC abs. has not been clarified.
Methods
We conducted a cross-sectional study of 210 patients with kidney disease aged 21–96 years who were admitted to our hospital for kidney biopsy in 2007–2010. For accuracy, the level of proteinuria was thoroughly measured by 24-h urine collection from patients in their admitted condition. The abs. of total DCs (tDCs), myeloid DCs (mDCs) and plasmacytoid DCs (pDCs) was measured by three-color fluorescence-activated cell sorting (FACS). Patients were divided into four groups based upon the quartile of each DC abs. and one-way ANOVA, and multivariable-adjusted regression analyses were performed.
Results
Quantile analysis showed that the level of daily proteinuria decreased with increasing blood mDC abs., with mean proteinuria levels (g/day) of 2.45, 1.68, 1.68, 1.10 for those in mDC abs. quartiles ≤ 445, < 686, < 907, ≥ 907 cells/10
2
µL (
p
 = 0.0277), respectively. Multivariate-adjusted regression analysis revealed that the mDC abs. was negatively associated with proteinuria (95% CI − 57.0 to − 8.5) and positively associated with male gender (95% CI 66.2–250.5). Independent associations were also shown between pDCs abs. and estimated glomerular filtration rate (eGFR) (95% CI 0.14–2.67) and C-reactive protein (95% CI − 49.4 to − 9.9) and between tDCs abs. and male gender (95% CI 54.5–253.6) and C-reactive protein (95% CI − 80.5 to − 13.4).
Conclusion
We first reported that circulating mDC abs. has a negative association with the level of proteinuria.