01.10.2010 | Gastrointestinal Oncology | Ausgabe 10/2010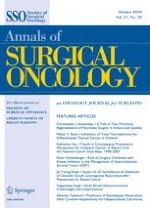 Neoadjuvant Chemotherapy in Patients with Stage IV Colorectal Cancer: A Comparison of Histological Response in Liver Metastases, Primary Tumors, and Regional Lymph Nodes
Zeitschrift:
Autoren:

Pascal Gervaz, Laura Rubbia-Brandt, Axel Andres, Pietro Majno, Arnaud Roth, Philippe Morel, Gilles Mentha
Abstract
Background
We report the histopathological results of a novel "inversed" strategy designed to manage patients with colorectal cancer (CRC) who have synchronous liver metastases by using chemotherapy first, liver surgery second, and resection of the primary tumor as a final step. This study was designed to compare the response to chemotherapy in liver metastases, primary tumors, and locoregional lymph nodes.
Methods
Twenty-nine patients with stage IV CRC received a combination of oxaliplatin, irinotecan, 5-fluorouracil, and leucovorin (OCFL) for 3–4 months. Histological response to chemotherapy was assessed by using a tumor regression grading (TRG) score based on presence of residual tumor cells and extent of fibrosis.
Results
Median age of patients was 56 (range, 37–69) years. Primary tumor location was right colon (
n
= 5), left colon (
n
= 7), and rectum (
n
= 17 patients). TRG scores correlated across disease sites (Spearman correlation coefficients for TRG in the primary tumor and lymph nodes was 0.59 [
P
= 0.005]; for the primary tumor and metastases 0.44 [
P
= 0.021]; and for lymph nodes and metastases 0.58 [
P
= 0.006]). Complete absence or poor tumor response (TRG4/5) was significantly more frequent in primary tumors (35.7%) and locoregional lymph nodes (38%) than in liver metastases (6.9%; McNemar test,
P
= 0.02). Two patients had a complete pathologic response (pT0N0M0).
Conclusions
In patients with stage IV colorectal cancer, liver metastases exhibit a better histological response than primary tumors to OCFL neoadjuvant chemotherapy.