12.06.2018 | Case-Based Update | Ausgabe 8/2018 Open Access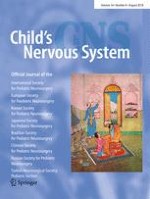 Neurocutaneous melanosis presenting with hydrocephalus and malignant transformation: case-based update
Zeitschrift:
Autoren:

F. Sharouf, M. Zaben, A. Lammie, P. Leach, M. I. Bhatti
Abstract
Introduction
Neurocutaneous melanosis (NCM) is a sporadic condition characterised by congenital melanocytic nevi and melanocytic thickening of the leptomeninges. It is believed to result from congenital dysplasia of melanin-producing cells within the skin and leptomeninges. The management of cutaneous manifestations remains controversial; for neurological manifestations, outcome remains poor even with the use of radiotherapy and chemotherapy.
Patients and methods
We describe the case of a 5-month-old boy who presented with giant congenital melanocytic nevus and hydrocephalus. MR imaging and CSF immunohistochemistry confirmed leptomeningeal melanosis. We discuss the diagnosis, treatment and prognosis of this rare disorder in the light of recent published literature.
Results
Patient required placement of right-sided ventriculoperitoneal shunt to control hydrocephalus. The patient tolerated the procedure well and was discharged home with normal neurological function. A presumptive diagnosis of NCM was made based on the MR characteristics, CSF cytology and clinical presentation. He received trametinib, a MAPK/Erk kinase inhibitor for 7 months. At 30 months of age, he developed left-sided weakness and status epilepticus requiring paediatric intensive care unit admission and ventilator support. The patient eventually succumbed to malignant transformation of leptomeningeal disease.
Conclusion
Cutaneous manifestations of NCM are usually congenital, and neurological manifestations develop early in life. Patients with large or multiple congenital nevi should therefore be investigated early to facilitate treatment. MR imaging is the investigation of choice which can further assist in performing biopsy. Symptomatic NCM is refractory to radiotherapy and chemotherapy and has a poor prognosis. A multidisciplinary approach is necessary in the management of NCM patients.