07.06.2015 | Original Article | Ausgabe 2/2016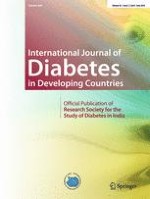 New cutoff values for fat mass index, fat-free mass index and percent body fat in overweight and obese men living in Riyadh, SA
Autoren:

Mahmoud Mustafa Ali Abulmeaty, Ali Madi Almajwal, Heba Mohammed Zaher Hassan
Abstract
The frequent clinical use of bioelectrical impedance analysis (BIA) devices has made clinical evaluations of BIA-based parameters mandatory. This study was performed to define new cutoff points for the fat mass index, fat-free mass index, and percent body fat for overweight and obese men living in Riyadh, KSA. Three hundred sixty-two male subjects aged 18 to 62 years were enrolled in this cross-sectional study. The participants were divided into two groups; one group was assessed with an InBody 720 (
n
 = 179) device, and the other group was assessed with a Tanita BC-418 (
n
 = 183) device. Fat mass, fat mass index (FMI), fat-free mass, fat-free mass index (FFMI), and percent body fat (PBF) were measured. In addition, anthropometric measures, including weight, height, body mass index (BMI), waist circumference, hip circumference, waist hip ratio, and mid-arm circumference were included. Pearson correlation coefficients, Kappa analyses, and ROC curves were used. FMI exhibited the strongest positive correlation with BMI among all of the measured BIA-based parameters in both the InBody and Tanita groups (
r
 = 0.916 and 0.958, respectively,
P
 < 0.00001). ROC curves indicated that FMI was the most accurate parameter for the diagnosis of obesity in both groups (
AUC
s = 0.970 and 0.980). The FMI, FFMI, and PBF cutoff values with the best sensitivities and specificities in both groups were 7.8 vs. 6.7 kg/m
2
, 19.2 vs. 20.7 kg/m
2
, and 27.8 vs. 24 %, respectively, based on the WHO criteria for the diagnosis of obesity in Asian population. FMI was the best predictor of obesity among all of the BIA-based parameters. Considerable differences were noted between the different machines. Knowledge of device-specific cutoff points would increase the clinical value of BIA in the diagnosis of obesity.