28.03.2017 | Original Paper | Ausgabe 1/2018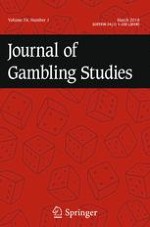 New Price, New Hope? An Examination of the Effects of Doubling the Ticket Price in UK Lotto
Zeitschrift:
Autoren:

David Forrest, O. David Gulley
Wichtige Hinweise
We thank Delaney Steele, Arun Venugopal, and Gabrielle Williams for assistance with the data.
Abstract
The UK Lotto game was introduced in November 1994 with a standard 6/49 format and an entry fee of £1 per ticket. After several years, revenue began to fall despite extensive publicity and a variety of inducements. By 2013, nominal weekly revenue was less than half the 1995 level. In October 2013, the operator doubled the price of a ticket to £2 and made a number of changes to the pay-out structure of smaller prizes. The intent of the changes was to reverse the long downward trend in game revenue by encouraging higher jackpots and offering more pay-out opportunities for each ticket. We use draw by draw revenue and other data to evaluate how players responded to these changes and find that, while ticket sales fell dramatically, total revenue rose following the changes. Primarily this appears to have been the consequence of increased frequency of rollovers (and therefore of more frequent high jackpot draws) rather than ticket price inelasticity. However, although there was a short-term gain in revenue, the changes did not arrest, and indeed seem to have accentuated, the long-run trend decrease in the revenue generated by the game.