01.12.2013 | Review | Ausgabe 1/2013 Open Access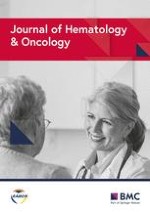 Novel agents for chronic lymphocytic leukemia
Zeitschrift:
Autoren:

Mei Wu, Akintunde Akinleye, Xiongpeng Zhu
Wichtige Hinweise
Mei Wu, Akintunde Akinleye contributed equally to this work.
Competing interests
The authors declare that they have no competing interests.
Authors' contributions
XPZ developed the concept and report design. All authors equally participated in the drafting and revisions of this article, and have read and approved the final manuscript.
Introduction
Chronic lymphocytic leukemia (CLL) is a post-germinal center neoplasm characterized by clonal proliferation and accumulation of mature-appearing lymphocytes in the blood, bone marrow, lymph nodes and spleen. The CLL cells are typically B-cell in origin, and T-cell variant occurs rarely. CLL is the most common leukemia in Western countries, and it accounts for approximately one-third of all leukemias in the United States [
1
]. The median age at diagnosis of CLL is 70 years, and the disorder demonstrates a slight male predilection [
2
]. Most patients are asymptomatic and the diagnosis of CLL is frequently made on routine blood count. The leukemic cells usually coexpress CD5 and CD23, and the diagnosis can be established by the demonstration of ≥5 × 10
9
/L monoclonal cells with this phenotype in the peripheral blood even in the absence of lymphadenopahy, organomegaly, or other clinical features [
3
]. CLL is a heterogeneous disease as reflected by its highly variable natural history, ranging from indolent to aggressive clinical course. Some patients die within two to three years from the time of initial diagnosis, whereas others with the condition live much longer for about 10 to 20 years [
4
]. To provide useful prognostic information, CLL patients are stratified into prognostic groups by the Rai and Binet clinical staging systems, which appear to correlate with degree of gross tumor burden [
4
,
5
]. However, these staging systems lack accuracy to predict disease progression particularly in early stage or low risk disease. As such, adverse cytogenetic abnormalities and molecular markers are being utilized to better identify patients with more rapidly progressive disease [
6
,
7
].
CLL is typically sensitive to a variety of cytotoxic drugs, but the disease is considered incurable. Treatment is generally recommended to control symptoms and reduce bulk of disease but without substantially improving survival. Emerging understanding of the molecular pathophysiology of CLL has facilitated the development of new drugs with a view to improving clinical outcomes for this malignancy [
8
–
10
].
Conventional approaches
In newly diagnosed patients, primary therapy with fludarabine-based therapy demonstrated high response rates. Specifically, combination regimens with fludarabine, cyclophosphamide, and rituximab (FCR), fludarabine plus rituximab (FR), are frequently used initial treatment.
In younger (<65 years) patients, FCR has been shown be superior to either fludarabine or fludarabine combined with cyclophosphamide (FC) regimens [
11
,
12
]. However, FCR is reported to be associated with higher incidence of opportunistic infections, prolonged myelosuppression and possibly increased rate of secondary malignancies. The updated results from the German CLL Study Group (GCLLSG) phase III trial of previously untreated patients with CLL showed higher response rates after primary treatment with FCR versus FC. After a median follow-up of 5.9 years, PFS in patients treated with FCR was 38% versus 27.4% in patients treated with FC regimen. The OS was also found to be superior in the FCR arm (HR 0.7; p=0.001). Development of secondary malignancies was seen in similar proportion of patients in both groups (9.9% versus 12.1%, p = 0.4). Though grade 3 or 4 neutropenia were significantly higher in the FCR group, it did not translate into an increased rate of MDS/AML in this group [
13
]. A retrospective analysis of 235 newly diagnosed patients with CLL treated with frontline FCR-based therapy was performed at the University of Texas, MD Anderson Cancer. Of 145 patients without prior history of cancer, 39 patients (27%) developed second cancer including non-melanoma skin, melanoma, head and neck, prostate, breast, lung, and therapy-related MDS-AML. More deaths were observed in those with second cancer as compared with patients without second cancer (49% versus 10%, p <0.05). Based on these results, it appears that second cancers in CLL patients treated with FCR are associated with an inferior survival [
14
]. Petra et al. reported the results of a study involving 252 patients with newly diagnosed CLL treated with either FCR or FC [
15
]. The frequency of prolonged cytopenia was not signicantly different between patients treated with FCR compared with those treated with FC. However, patients with prolonged cytopenia with either regimens demonstrated a higher risk to develop MDS/AML, and poor clinical outcome.
The optimal therapy for elderly patients (≥65 years) with CLL is not currently known, and this provides the rationale for multiple ongoing cooperative studies. The phase II LLC 2007 SA trial was designed to examine the tolerability and efficacy of induction therapy with abbreviated FCR followed by either observation or maintenance rituximab in CLL patients > 65 years [
16
]. Early results showed that the ORR after primary therapy with four cycles of oral FC combined with 6 doses of rituximab was 96.3%. High rate of grade 3 or 4 neutropenia was observed but rarely translated into significant infections. Similarly, analysis of Australian CLL5 study also demonstrated oral FC combined with rituximab to be a safe and well tolerated regimen in CLL patients ≥65 years [
17
].
Role of aspirin in CLL
Addition of aspirin to salvage FCR regimen may be of value in CLL patients with relapsed/refractory disease. Aspirin is a non-steroid anti-inflammatory drug (NSAID) that not only directly targets the cyclooxygenase enzyme, but also activate the apoptotic pathway in leukemic CLL cells by promoting DNA fragmentation, caspase activation, and proteolytic cleavage of PARP. Data from a single institution retrospective study demonstrated a significantly higher PFS and OS in patients treated concurrent aspirin plus FCR as salvage therapy compared with FCR alone [
18
]. However, prospective randomized data are required to establish the benefit of aspirin in the treatment of CLL.
Treatment of CLL with high risk features
Although CLL may be morphologically similar, several subtypes are being identified at the genetic and molecular level. Deletion of 17p, overexpression of ZAP-70 and CD38,
TP53
mutation, and unmutated
IGHV
are considered high-risk features in CLL, and associated with adverse prognosis. Similarly, refractoriness to fludarabine-based therapy is associated with worse outcome.
Alemtuzumab is a humanized immunoglobulin G
1
anti-CD52 monoclonal antibody approved by the US Food and Drug Administration (FDA) as second-line therapy for CLL patients who have failed alkylating agents or fludarabine-based therapy. Additionally, it is approved in Canada for CLL patients who have not had any previous therapies. However, the benefit of alemtuzumab as frontline therapy is unclear with unsatisfactory impact on response in this setting [
19
]. In the updated results of the phase II CLL2O study, induction treatment with alemtuzumab combined with high dose dexamethasone demonstrated significantly improved ORR of 98% & 79% in untreated 17p- and relapsed 17p- patients respectively. High response rate was also seen in patients with fludarabine- refractory disease [
20
]. The safety and efficacy of alemtuzumab in combination with rituximab and PGG beta glucan was evaluated in a single arm trial [
21
]. Ten out of the 13 patients enrolled in the trial had high-risk parameters such as 17p-, 11q22-, unmutated IGHV and overexpression of ZAP70 and/or CD38. After 4 weeks of treatment, the ORR was 100% (7 CR, 1 CCR, 1 nPR, and 2 PR) in eleven evaluable patients. Grade 4 toxicity, mainly febrile neutropenia was observed in one patient. Therefore, combination of alemtuzumab with rituximab and PGG beta glucan seems well tolerated with acceptable toxicity profile (Table
1
).
Table 1
Alemtuzumab in clinical trials
Study agents

Other agents

Disease

Dosage

Clinical trials

No Pts

Response

Reference

Alemtuzumab

High risk

30 mg

Phase II

93

CR:2%

ORR:33%

Alemtuzumab

Dexamethasone

Untreated

30 mg

Phase II

131

CR:19/4/3%

Relapsed

ORR:98/79/70%

Refractory

Alemtuzumab

Rituximab

High risk

30 mg

Phase I

13

CR:64%

PGG beta glucan

ORR:100%
New agents
Conclusions and future directions
Bendamustine and rituximab is being compared with FCR as a front-line therapy for CLL. Aggressive regimens are being explored for relapsed/refractory or high risk CLL. Nevertheless, CLL remains an incurable disease at this time. In particuar, the long-term survival of CLL patients with poor prognosis is still unsatisfactory. Novel agents discussed in this article appear encouraging. Additional targets are being explored [
66
–
68
]. By integrating these novel agents with conventional approaches, significant progress may become reality in the near future.
Acknowledgement
This work is supported by the Science and Technology Program of Quanzhou City (No.2012Z5), Fujian Province, China.
Competing interests
The authors declare that they have no competing interests.
Authors' contributions
XPZ developed the concept and report design. All authors equally participated in the drafting and revisions of this article, and have read and approved the final manuscript.