01.12.2018 | Research article | Ausgabe 1/2018 Open Access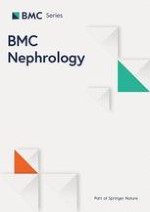 Off-clamp partial nephrectomy has a positive impact on short- and long-term renal function: a systematic review and meta-analysis
Zeitschrift:
Autoren:

Wen Deng, Xiaoqiang Liu, Jieping Hu, Luyao Chen, Bin Fu
Wichtige Hinweise
Electronic supplementary material
Abstract
Background
Ongoing efforts are focused on shortening ischemia intervals as much as possible during partial nephrectomy to preserve renal function. Off-clamp partial nephrectomy (off-PN) has been a common strategy for to avoid ischemia in small renal tumors. Although studies comparing the advantages between off-PN with conventional on-clamp partial nephrectomy (on-PN) have been reported, the impact on short- and especially long-term renal function of the two surgical methods has not been discussed seriously and remained unclear. Our purpose is to evaluate the impact on short- (within postoperative 3 months) and long-term (postoperative 6 months or longer) renal function of off-PN compared with that of on-PN.
Methods
We comprehensively searched databases, including PubMed, EMBASE, and the Cochrane Library, without restrictions on language or region. A systematic review and cumulative meta-analysis of the included studies were performed to assess the impact of the two techniques on short- and long-term renal function.
Results
A total of 23 retrospective studies and 2 prospective cohort studies were included. The pooled postoperative short-term decrease of estimated glomerular filtration rate (eGFR) was significantly less in the off-PN group (weighted mean difference [WMD]: 4.81 ml/min/1.73 m
2
; 95% confidence interval [CI]: 3.53 to 6.08;
p
< 0.00001). The short-term increase in creatinine (Cr) level in the on-PN group was also significant (WMD: − 0.05 mg/dl; 95%CI: − 0.09 to − 0.00;
p
= 0.04). Significant differences between groups was observed for the long-term change and percent (%) change of eGFR (
p
= 0.04 and
p
< 0.00001, respectively) but not for long-term Cr change (
p
= 0.40). The postoperative short-term eGFR and Cr levels, but not the postoperative long-term eGFR, differed significantly between the two groups. The pooled odds ratios for acute renal failure and postoperative progress to chronic kidney disease (stage≥3) in the off-PN group were found to be 0.25 (
p
= 0.003) and 0.73 (
p
= 0.34), respectively, compared with the on-PN group.
Conclusions
Off-PN exerts a positive impact on the short- and long-term renal function compared with conventional on-PN. Given the inherent limitations of our included studies, large-volume and well-designed RCTS with extensive follow up are needed to confirm and update the conclusion of this analysis.