01.12.2014 | Original Article | Ausgabe 3/2014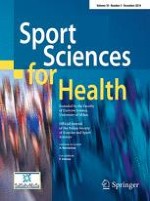 Optimisation of starting conditions in track cycling
Zeitschrift:
Autoren:

Johnny Padulo, Guillaume Laffaye, William Bertucci, Anis Chaouachi, Davide Viggiano
Abstract
Purpose
Several factors may influence cycling performance and effort intensity during cycling competitions. The present study aimed to investigate the conditions that may influence the initial acceleration during the first 5 m of a cycling competition, particularly riding position, starting angle of the crank and hand position on handlebars. To this aim, eight male cyclists amateur were tested in laboratory and on track.
Methods
Surface electromyography was also used to verify the influence of upper body on muscle activity. Moreover, to verify the results, 59 professional cyclists were observed on the track using the same set-up.
Results
Standing position increased by 10 % the initial speed and acceleration compared to seated position. A starting crank angle of 71° and the position of the hands on the upper bar of the handlebar also improved the acceleration. The effects of these parameters were additive and, therefore, the acceleration with standing position and initial crank angle of 71° was about 35 % greater than that with seated position with an initial crank angle of 47°.
Conclusions
These effects were especially important when analysing the results of competitive athletes, which also showed better initial acceleration under spontaneously adopted optimal initial conditions.