01.12.2017 | Research | Ausgabe 1/2017 Open Access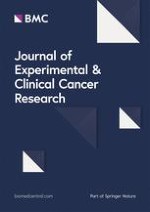 PDGFA/PDGFRα-regulated GOLM1 promotes human glioma progression through activation of AKT
Zeitschrift:
Autoren:

Ran Xu, Jianxiong Ji, Xin Zhang, Mingzhi Han, Chao Zhang, Yangyang Xu, Yuzhen Wei, Shuai Wang, Bin Huang, Anjing Chen, Di Zhang, Qing Zhang, Wenjie Li, Zheng Jiang, Jian Wang, Xingang Li
Wichtige Hinweise
Electronic supplementary material
Abstract
Background
Golgi Membrane Protein 1 (GOLM1), a protein involved in the trafficking of proteins through the Golgi apparatus, has been shown to be oncogenic in a variety of human cancers. Here, we examined the role of GOLM1 in the development of human glioma.
Methods
qRT-PCR, immunohistochemistry, and western blot analysis were performed to evaluate GOLM1 levels in cell lines and a cohort of primary human glioma and non-neoplastic brain tissue samples. Glioma cell lines were modified with lentiviral constructs expressing short hairpin RNAs targeting GOLM1 or overexpressing the protein to assess function in proliferation, viability, and migration and invasion in vitro using EdU, CCK8, clone-forming, Transwell assays, 3D tumor spheroid invasion assay and in vivo in orthotopic implantations. Protein lysates were used to screen a membrane-based antibody array to identify kinases mediated by GOLM1. Specific inhibitors of PDGFRα (AG1296) and AKT (MK-2206) were used to examine the regulation of PDGFA/PDGFRα on GOLM1 and the underlying pathway respectively.
Results
qRT-PCR, immunohistochemistry and western blot analysis revealed GOLM1 expression to be elevated in glioma tissues and cell lines.
S
ilencing of GOLM1 attenuated proliferation, migration, and invasion of U251, A172 and P3#GBM (primary glioma) cells, while overexpression of GOLM1 enhanced malignant behavior of U87MG cells. We further demonstrated that activation of AKT is the driving force of GOLM1-promoted glioma progression. The last finding of this research belongs to the regulation of PDGFA/PDGFRα on GOLM1, while GOLM1 was also a key element of PDGFA/PDGFRα-mediated activation of AKT, as well as the progression of glioma cells.
Conclusions
PDGFA/PDGFRα-regulated GOLM1 promotes glioma progression possibly through activation of a key signaling kinase, AKT. GOLM1 interference may therefore provide a novel therapeutic target and improve the efficacy of glioma treatment, particularly in the case of the proneural molecular subtype of human glioma.