01.01.2012 | Review Article | Ausgabe 1/2012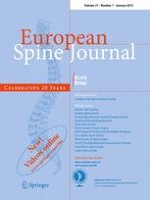 Pedicle screw instrumentation in adolescent idiopathic scoliosis (AIS)
Zeitschrift:
Autoren:

Se-Il Suk, Jin-Hyok Kim, Sung-Soo Kim, Dong-Ju Lim
Abstract
Introduction
Pedicle screw instrumentation in AIS has advantages of rigid fixation, improved deformity correction and a shorter fusion, but needs an exacting technique.
Materials and methods
The author has been using the K-wire method with intraoperative single PA and lateral radiographs, because it is safe, accurate and fast. Pedicle screws are inserted in every segment on the correction side (thoracic concave) and every 2–3 on the supportive side (thoracic convex). After an over-bent rod is inserted on the corrective side, the rod is rotated 90° counterclockwise. This maneuver corrects the coronal and sagittal curves. Then the vertebra is derotated by direct vertebral rotation (DVR) correcting the rotational deformity. The direction of DVR should be opposite to that of the vertebral rotation. A rigid rod has to be used to prevent the rod from straightening out during the rod derotation and DVR. The ideal classification of AIS should address all curve patterns, predicts accurate fusion extent and have good inter/intraobserver reliability. The Suk classification matches the ideal classification is simple and memorable, and has only four structural curve patterns; single thoracic, double thoracic, double major and thoracolumbar/lumbar. Each curve has two types, A and B. When using pedicle screws in thoracic AIS, curves are usually fused from upper neutral to lower neutral vertebra. Identification of the end vertebra and the neutral vertebra is important in deciding the fusion levels and the direction of DVR. In lumbar AIS, fusion is performed from upper neutral vertebra to L3 or L4 depending on its curve types.
Conclusions
Rod derotation and DVR using pedicle screw instrumentation give true three dimensional deformity correction in the treatment of AIS. Suk classification with these methods predicts exact fusion extent and is easy to understand and remember.