28.01.2020 | Urologic Oncology | Ausgabe 7/2020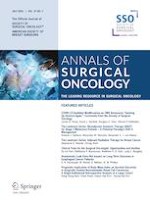 Pelvic Exenteration for Anal and Urogenital Squamous Cell Carcinoma: Experience and Outcomes from an Exenteration Unit Over 12 Years
Zeitschrift:
Autoren:

MBBS, FRACS Nicholas Smith, MB, BCh, BAO, MD, MCH, MedED, FRCS Peadar S. Waters, BMBS, PhD, FRCS Oliver Peacock, MBBS, FRACS Joseph C. Kong, MBBS, FRACS Jacob McCormick, MBBS, MS, FRACS Satish K. Warrier, MBBAO, BCh, FRCSI, MRCOG, FRANZCOG, CGO Orla McNally, MBChB, MMedSc, FRACS Andrew C. Lynch, MA, MB, BChir, MD, MBA, FRCS (Gen.), FRCSEd, FRACS, FACS Alexander G. Heriot
Wichtige Hinweise
Nicholas Smith and Peadar S. Waters are co-first authors.
Publisher's Note
Springer Nature remains neutral with regard to jurisdictional claims in published maps and institutional affiliations.
Abstract
Background
Pelvic exenteration has increasingly been shown to improve disease-free and overall survival for patients with locally advanced pelvic malignancies. Squamous cell carcinoma (SCC) is the second most common pelvic malignancy requiring exenteration.
Objective
The aim of this study was to report the clinical and oncological outcomes from patients treated with pelvic exenteration for anal and urogenital SCC from a single, high-volume unit.
Methods
A review of a prospectively maintained database from 1991 to 2018 at a high-volume specialised institution was performed. Primary endpoints included R0 resection rates, local recurrence and overall survival (OS) rates.
Results
From January 1999 to July 2018, 361 patients underwent pelvic exenteration of which 31 patients were identified with SCC (15 anal SCC, 16 urogenital SCC). The majority of patients were females (
n
 = 24, 77.4%). Median age was 59 (range 35–81). Twenty-seven patients underwent resection with curative intent with an R0 resection rate of 81.5%. Four patients underwent a palliative procedure [R1 = 3 (8%), R2 = 1 (3.3%)]. Mean hospital length of stay was 32 days (range 8–122 days). Disease-free survival was significantly increased in anal SCC with no significant difference in OS compared to urogenital SCC (
p
 = 0.03,
p
 = 0.447 respectively). Advanced pathological T stage was associated with decreased OS (
p
 = 0.023). In the curative intent group the disease-free survival and OS rate was 59.3% and 70% at 24 months, respectively.
Conclusion
Complete R0 resection is achievable in a high proportion of patients. Urogenital SCC is associated with significantly worse disease-free survival, and advanced T-stage was a significant prognostic factor for OS.