01.12.2013 | Research article | Ausgabe 1/2013 Open Access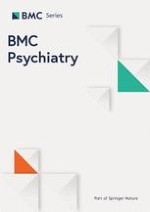 Pharmacotherapy for bipolar disorder and concordance with treatment guidelines: survey of a general population sample referred to a tertiary care service
Zeitschrift:
Autoren:

Sabrina Paterniti, Jean-Claude Bisserbe
Wichtige Hinweise
Competing interests
Both authors declare that they have no competing interests.
Authors' contributions
SP contributed to design, analysis and interpretation of data and drafting the manuscript. Dr. JCB contributed to conception, design, interpretation of data and revising the manuscript for important intellectual content. Both authors have given final approval of the version to be published.
Abbreviations
APA
American psychiatric association
CANMAT
Canadian network for mood and anxiety treatments
DSM-IVTR
Diagnostic standardized manual - revised
ROMHC
Royal Ottawa mental health centre
SCID
Structured clinical interview for DSM-IV-TR
STEP-BD study
Systematic treatment enhancement program for bipolar disorder.
Background
To our knowledge, there has never been a study conducted on concordant treatment of bipolar patients in keeping with the CANMAT guidelines in Canada. The first object of our study was to examine the administration of psychotropic drugs among subjects diagnosed with BD and who had been referred to tertiary care services. The second objective was to assess concordance of prescribed treatments with Canadian guidelines. The third objective was to identify the clinical factors linked to poorer concordance of treatment with CANMAT guidelines.
Methods
Sample
The study "Prevalence, comorbidity and psychosocial risk factors: recurrent unipolar depression and bipolar disorder" was realized in the context of the Assessment and Treatment Clinic (ATC), an out-patient service established in 2006 within the framework of the Royal Ottawa Mental Health Centre (ROMHC) Mood Disorders Program. The ROMHC Mood Disorders Program provides specialized tertiary care service to all citizens of Ottawa, Ontario (estimated population in 2009: 885,715 inhabitants). It targets the population of high-risk mood disorder patients, namely, individuals with serious, complex, and/or rare mental disorders, who present multiple and complex needs, and whose treatment requirements cannot be met in the first line or at the more intensive levels of service. As such, these patients require more intensive and prolonged care resources. The study protocol was approved by the Research Ethics Board of ROMHC (Reference: REB#2006-22). A written informed consent was obtained from participants, where the rational of the study was explained and the participants gave consent to publish the results of the study, but kept their identity confidential.
The selection of the cases to be assessed by the ATC was as follows. A nurse examined all the referrals from community doctors (mostly family physicians) to the mood disorders program and chose the referrals which were the most likely to satisfy the criteria for the program, that is, subjects suffering from primary recurrent or chronic unipolar major depressive disorder or BD, were resistance to treatment, or severity required the intervention of the outpatient multidisciplinary team. About 20% of all referrals were included and assessed by the ATC team through a diagnostic and clinical assessment, so a standardized diagnosis was available only for these patients. The psychiatrists of the program assessed the remaining cases, making recommendations for treatment or following the patients as appropriate. From December 2006 to February 2009, the ATC assessed 409 subjects, who were referred to the program by physicians within the community; mostly family physicians. Of these subjects, 113 (39 men and 74 women) presented with primary diagnosis of BD type I or II.
Diagnostic and clinical assessment
During the course of the initial visit, subjects underwent clinical interviews with a nurse, a social worker, an occupational therapist, a psychiatrist and a psychologist. Collection of information took on average 3 to 5 hours.
The Structured Clinical Interview for DSM-IV-TR (SCID) [
35
] was used to assess diagnosis on Axis I. The SCID screen was administered to all patients which included Mood and PTSD modules completed for every patient
.
Where anxiety, psychotic, or eating disorder was indicated based on SCID screening, these modules were administered as well. Substance abuse and dependence were flagged based on the chart review and the patient's report during the interdisciplinary assessment. The correspondent module was administered where indicated.
In cases where a diagnosis of BD proved inconclusive with the use of SCID-I ("rule out diagnoses"), all efforts were made to produce a valid diagnosis, by consulting the charts and/or interviewing the treating psychiatrist. The psychotropic medications that were prescribed and their dosages were recorded by a nurse. The lithium levels were measured in the following month after the first assessment. A history of previous hospitalizations was also systematically collected by a nurse.
Criteria: adherence to treatment guidelines
The CANMAT guidelines published in 2009 [
18
] were considered for purposes of evaluating treatment concordant with guidelines. CANMAT guidelines include first, second, and third line recommendations, where second and third line recommendations should be used when the first line are not effective, or not tolerated, or not indicated for other reasons. A systematic longitudinal pharmacological history of every patient was not available, so we could not verify if patients treated with second or third line treatments had already been prescribed with a treatment following a first line recommendation. However, our sample included patients referred to a tertiary care structure and the selection process of the sample included the criteria of having a resistant-to-treatment, or chronic, severe and highly recurrent disorder. In these cases, it is likely that the patients had already been prescribed with at least a first line treatment. For this reason, we considered second and third line treatments as concordant to guidelines.
Using the Structured Clinical Interview for DSM-IV (SCID) [
35
], we identified the nature of a given mood episode present in any month preceding the assessment ("current episode"). For cases exhibiting a current depressive episode, treatment was compared with recommendations for "acute bipolar depression" for BD type I (BD-I), as indicated in the Table four point three of the above publication [
18
] and BD-II (Table seven point two) [
18
]. For cases of hypomania, treatment was compared with recommendations for "acute mania" (Table three point three) [
18
]; otherwise, treatment was compared with recommendations for "maintenance treatment" for BD-I (Table five point five) and BD-II (7.4) [
18
]. No cases of acute mania were described among bipolar I patients at the moment of assessment.
Prescriptions for lithium, anticonvulsants, atypical antipsychotics, and antidepressants were considered for purposes of assessing prescribed treatments as concordant with the CANMAT guidelines, whether they were associated or not with benzodiazepines, zopiclone, or first generation neuroleptics. Although CANMAT guidelines do not explicitly specify the dose ranges for the recommended treatments, the recommendations are mainly based on clinical trials. Based on the results of these trials, we considered the following dosages to define a treatment as being in the "therapeutic range", so following the CANMAT recommendations: lithium blood levels ≥0.5 mEq/L; valproate ≥ 750 mg daily; carbamazepine ≥600 mg daily; lamotrigine ≥ 50 mg daily; olanzapine ≥ 5 mg daily; risperidone ≥ 2 mg daily; quetiapine ≥150 mg daily.
The following exceptions were made: 1) trazodone at low dosage (≤50 mg) was not considered as "antidepressant", given its use as a hypnotic; 2) amitryptyline at low dosage (<50 mg) was not considered an antidepressant, given its use as an anti-pain or hypnotic under low dosage. "Polypharmacy" was defined as the association of more than one mood stabilizer, atypical antipsychotic and antidepressant, where at least one of the prescribed treatments met the CANMAT recommendations, though in combinations not specifically recommended by the guidelines. The classification "doesn't follow the guidelines" refers to patients not receiving any treatment included in the CANMAT recommendations.
Data analysis
Data was analyzed using SPSS 19.0 statistical package (PASW, Chicago, IL). Pearson χ2 test and t-tests were used where appropriate. Bonferroni corrections were used in the analyses. We considered the following analyses: 1) in descriptive statistics, we compared the proportions of subjects taking at least one of the different classes of psychotropics at any dosage (lithium, anticonvulsants, antidepressants, benzodiazepines, neuroleptics, at least one psychotropic drug) by type of bipolar disorder (BD-I or BD-II) and nature of the mood episode (hypomanic, depressive, euthymia). Two-tailed tests were considered as significant when p < 0.001. 2) We then compared the proportions of subjects taking at least one mood stabilizer or atypical antipsychotic with a dosage in the therapeutic range, by type of BD and nature of the mood episode. Two-tailed tests were considered as significant when p < 0.001. 3) Finally, we compared the proportions of patients prescribed with guideline-concordant treatment for the following predictors: sex; age; previous hospitalizations; type of BD; nature of the current mood episode; comorbid anxiety disorder (current); comorbid substance use disorder (current); age at onset of the mood disorder. Two-tailed tests were considered as significant when p < 0.006. A logistic regression model was used to predict the independent likelihood of receiving treatment not concordant with guidelines.
Results
Discussion
Prevalence of psychotropic treatment
Only 7% of the patients were treatment-free; antidepressants were the most prescribed treatment, especially in BD-II; lithium was administered to 62% of the bipolar I patients and only 18% of the bipolar II patients.
Concordance with treatment guidelines
Divergence from guidelines was mostly noted for patients suffering from hypomania, with 68% of hypomanic patients receiving non-concordant treatment to guidelines. In more than half of the cases, treatments not congruent with guidelines were due to inappropriate treatments with antidepressants; the remaining cases of non-concordance were due to the absence of psychotropic treatment or to inadequate dosage. Also noteworthy is that more than one-third of depressed bipolar II patients receiving treatment concordant with guidelines were prescribed antidepressants within monotherapy, which constitutes a third line recommendation under the CANMAT guidelines, and almost one third of all bipolar II patients were treated with antidepressant without any mood stabilizer.
Although the study focused on patients seen between the end of 2006 and beginning of 2009, we decided to use the 2009 guidelines rather than 2007, as some of the recommendations adopted in 2009 were already suggested in the previous version. For example, the possibility to use antidepressant monotherapy in bipolar II patients in depressive phase was already described in 2007, and more explicitly formulated in 2009. Other new recommendations adopted in the 2009 CANMAT version, which could potentially affect the percentage of concordance with guidelines in our sample, concerned with the use of quetiapine monotherapy as first line recommendation of BD-II depression and in BD-I maintenance; the use of divalproex monotherapy as second line recommendation in BD-I and BD-II depression; and the use of quetiapine in combination with lithium or divalproex in BD-I maintenance. In our sample, only two treatments would have been classified in a different way if we had adopted the 2007 guidelines: two BD-II depressive patients taking divalproex monotherapy would have been classified as "doesn't follow guidelines", instead of "second line treatment".
Our study, however, dealt with limitations. Our sample was relatively small, most notably as far as stratification was concerned. Also, we had to contend with a strong representation of depressed patients, which corresponds to a higher prevalence of depressive symptoms in the bipolar population.
Conclusions
In conclusion, the actual results support the efficacy of efforts made over the past years in attempting to communicate CANMAT guidelines. Our studies indicate a relatively high rate of concordance to guideline treatment by general practitioners. A significant caveat was identified, however, in the use of antidepressant medications, especially with respect to treatment of bipolar patients with hypomanic symptoms. Our study identifies the inappropriate use of antidepressants as one of the factors in outlining non-concordant treatment with guidelines. Although there is no evidence supporting the widespread use of antidepressants in BD, and moreover, that there be evidence supporting the use of other agents in its treatment, antidepressants remain the most frequently prescribed class of psychotropic medications in this regard. In the absence of across-the-board consensus on the use of antidepressants in treating BD, physicians have to individualize the risk/benefits for each patient, and repeatedly reassess and re-evaluate the need for antidepressants, which makes the treatment of bipolar patients particularly challenging. Given the high prevalence of depressive symptoms in bipolar patients, it appears that the symptoms, rather than the disorder, are often the target for treatment. Future research and intervention can change the current practice [
86
]. A recent study [
87
] has shown that educational programs were the best means of increasing the likelihood of general practitioners correctly assigning a subtype diagnosis in the treatment of BD, and prescribing mood stabilizers instead of antidepressants.
Acknowledgement
The authors gratefully acknowledge all members of the Assessment and Treatment Clinic team who made this study possible with their professional, dedicated and passionate work.
Competing interests
Both authors declare that they have no competing interests.
Authors' contributions
SP contributed to design, analysis and interpretation of data and drafting the manuscript. Dr. JCB contributed to conception, design, interpretation of data and revising the manuscript for important intellectual content. Both authors have given final approval of the version to be published.