01.07.2016 | PHASE I STUDIES | Ausgabe 5/2016 Open Access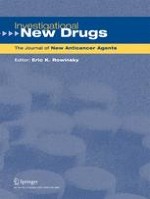 Phase I dose-finding study of monotherapy with atezolizumab, an engineered immunoglobulin monoclonal antibody targeting PD-L1, in Japanese patients with advanced solid tumors
Zeitschrift:
Autoren:

Hidenori Mizugaki, Noboru Yamamoto, Haruyasu Murakami, Hirotsugu Kenmotsu, Yutaka Fujiwara, Yoshimasa Ishida, Tomohisa Kawakami, Toshiaki Takahashi
Summary
Background
Atezolizumab is an engineered immunoglobulin monoclonal antibody that targets the programmed death-1/programmed death-ligand 1 pathway.
Methods
In this phase I dose-finding study, we assessed the safety, feasibility, pharmacokinetics (PK), and exploratory anti-tumor activity of atezolizumab monotherapy up to 20 mg/kg in Japanese patients with advanced solid tumors who had failed standard therapy or for whom there is no standard therapy.
Results
Six patients were enrolled and received intravenous atezolizumab every 3 weeks (q3w) at doses of 10 or 20 mg/kg. Tumor types were non-small cell lung cancer (
n
= 3), melanoma (
n
= 1), pancreatic cancer (
n
= 1), and thymic cancer (
n
= 1). No dose-limiting toxicities were observed. All adverse events (AEs) were grade 1 or 2 in severity. No discontinuations or deaths due to AEs were observed. As of the data cutoff, no partial responses were observed; however, stable disease was observed in all six patients. The maximum mean serum atezolizumab concentration was 220 μg/mL (SD ± 21.9), with 10-mg/kg dosing and 536 μg/mL (SD ± 49.4) with 20-mg/kg dosing. Three patients were still on treatment, and three of the six had achieved a progression-free survival of >12 months.
Conclusions
Atezolizumab was well tolerated in Japanese patients at doses up to 20 mg/kg q3w. The safety profile and Cycle 1 serum atezolizumab concentrations were similar to those previously observed in non-Japanese patients. These data support the participation of Japanese patients in ongoing pivotal global studies of atezolizumab.