01.12.2012 | Epidemiology | Ausgabe 3/2012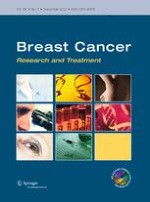 Plasma matrix metalloproteinases and postmenopausal breast cancer risk: a nested case–control study in the Multiethnic Cohort study
Zeitschrift:
Autoren:

Yeonju Kim, Nicholas J. Ollberding, Yurii B. Shvetsov, Adrian A. Franke, Lynne R. Wilkens, Gertraud Maskarinec, Brenda Y. Hernandez, Loïc Le Marchand, Brian E. Henderson, Laurence N. Kolonel, Marc T. Goodman
Abstract
The survival of malignant breast cells depends upon the remodeling of the extracellular matrix, including complex interactions with matrix metalloproteinases (MMPs). It has been hypothesized that circulating MMPs may serve as early indicators of breast cancer development in hospital-based case–control studies. A nested case–control study of the association of pre-diagnostic plasma levels of MMPs with the subsequent risk of postmenopausal breast cancer was conducted within the Multiethnic Cohort. During the follow-up period, 713 women with incident invasive breast cancer were identified and individually (1:1) matched to controls. Four types of MMPs (1, 2, 3, and 7) were analyzed by microsphere immunofluorescence assay. Mean plasma levels of MMPs did not differ significantly between cases and controls; nor were there differences in breast cancer risk by MMP level. No difference in the risk of breast cancer by plasma level of the MMPs was found within strata of age, or ethnicity, although MMP-1 levels were positively associated with breast cancer risk in obese women and women by hormone replacement medications (
P
values for interaction <0.05). Few significant differences in risk by levels of the MMPs were found by any of the clinical variables. Circulating MMPs were not associated with postmenopausal breast cancer risk.