01.12.2016 | Research | Ausgabe 1/2016 Open Access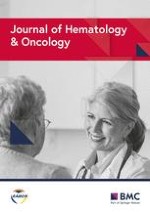 PML-RAR alpha induces the downmodulation of HHEX: a key event responsible for the induction of an angiogenetic response
Zeitschrift:
Autoren:

Ernestina Saulle, Alessia Petronelli, Elvira Pelosi, Elena Coppotelli, Luca Pasquini, Ramona Ilari, Francesco Lo-Coco, Ugo Testa
Wichtige Hinweise
Electronic supplementary material
The online version of this article (doi:
10.​1186/​s13045-016-0262-5
) contains supplementary material, which is available to authorized users.
Competing interests
The authors declare that they have no competing interests.
Authors' contributions
ES carried out the molecular studies, contributed to the design of experiments, and helped to draft the manuscript. EP performed at the experiments involving hemopoietic progenitor cell purification. UT conceived the study and was involved in the design and coordination of the study and drafted the manuscript. LP performed all the flow cytometry experiments. FLC supervised the analysis of all data derived from primary leukemic samples. Finally, AP, EC, and RI helped to perform cellular and molecular studies. All authors read and approved the final manuscript.
Abstract
Background
Recent studies indicate that angiogenesis is important in the pathogenesis of acute myeloid leukemias (AMLs). Among the various AMLs, the bone marrow angiogenetic response is particularly pronounced in acute promyelocytic leukemia (APL). However, the molecular mechanisms responsible for this angiogenetic response are largely unknown. In the present study, we have explored the role of HHEX, a homeodomain transcription factor, as a possible mediator of the pro-angiogenetic response observed in APL. This transcription factor seems to represent an ideal candidate for this biologic function because it is targeted by PML-RARα, is capable of interaction with PML and PML-RARα, and acts as a regulator of the angiogenetic response.
Methods
We used various cellular systems of APL, including primary APL cells and leukemic cells engineered to express PML-RARα, to explore the role of the PML-RARα fusion protein on HHEX expression. Molecular and biochemical techniques have been used to investigate the mechanisms through which PML-RARα downmodulates HHEX and the functional consequences of this downmodulation at the level of the expression of various angiogenetic genes, cell proliferation and differentiation.
Results
Our results show that HHEX expression is clearly downmodulated in APL and that this effect is directly mediated by a repressive targeting of the HHEX gene promoter by PML-RARα. Studies carried out in primary APL cells and in a cell line model of APL with inducible PML-RARα expression directly support the view that this fusion protein through HHEX downmodulation stimulates the expression of various genes involved in angiogenesis and inhibits cell differentiation.
Conclusions
Our data suggest that HHEX downmodulation by PML-RARα is a key event during APL pathogenesis.