05.10.2018 | Portal Hypertension (J Gonzalez-Abraldes and E Tsochatzis, Section Editors) | Ausgabe 4/2018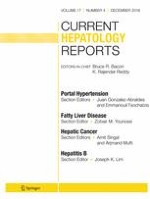 Portal Cavernoma Cholangiopathy
Zeitschrift:
Autor:

Dominique-Charles Valla
Wichtige Hinweise
This article is part of the Topical Collection on
Portal Hypertension
Abstract
Purpose of Review
Portal cavernoma cholangiopathy is a rare condition, a proper recognition of which is critical. Solid data on this condition are scarce. This review aims at updating current knowledge on its definition, manifestations, diagnosis, and management.
Recent Findings
A consensus has been reached to prefer the denomination portal cavernoma cholangiopathy for the bile duct irregularities associated with portal cavernoma. Such irregularities are characterized by stenosis with or without dilatation and are mostly related to the impinging on bile duct lumen by portoportal collaterals. While bile duct irregularities are found in over 80% of patients with portal cavernoma, clinical manifestations, and complications (cholecystitis and biliary stones, but rarely cholestasis) occur in only 5–35% of them. Diagnosis can be and should be based on findings at magnetic resonance cholangiography and portography. Differential diagnosis includes primary and secondary sclerosing cholangitis, and cholangiocarcinoma. Asymptomatic patients may be managed expectantly. Endoscopic procedures are to be used in the first line for complications. Combined endoscopic and surgical approaches including portosystemic shunting can be considered in refractory or recurrent cases.
Summary
Portal cavernoma cholangiopathy mostly is a morphologic entity which is present in a majority of patients with portal cavernoma. The minority of patients with acute biliary complications should be treated as conservatively as possible. Late consequences of chronic cholestasis appear to be rare.