28.08.2018 | Original Paper | Ausgabe 1/2019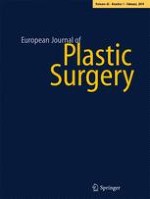 Pre-operative grip force as clinical predictor for weakness after transversal carpal ligament release
Zeitschrift:
Autoren:

Albert L. Niepel, Dirk Hellekes, Fuat Sokullu, Lara Steinkellner, Fercan Kömürcü
Abstract
Background
Temporary or long-lasting loss of grip force after open carpal tunnel release (CTR) in carpal tunnel syndrome (CTS) patients is well known and caused by changes in biomechanical conditions through sectioning of the transverse carpal ligament. We hypothesize to find predicting factors for loss of grip strength.
Methods
We performed dynamometer testing of overall hand grip, tip pinch, and key pinch grip prior, 3 and 6 months after open CTR in 42 CTS subjects. Changes in these three main variables related to pre-operative grip, tip pinch and key pinch forces as well as gender and age were analyzed for significant results (
t
test, Pearson and Spearman correlations, descriptive statistics; 2-tailed
p
= .05).
Results
At 3-month post-CTR, overall hand grip force decreased significantly by 11.7% (
p
= .006), whereas key pinch and tip pinch only decreased by 5.6 and 3.5% (
p
< .0004). At 6-month post-CTR our subjects showed, compared to pre-operative level, an increase of overall grip force to 94.6% (
p
= .242) and an improvement of tip pinch to even 107% (
p
= .169) and key pinch to 102% (
p
= .675). Further investigation showed that subjects with a strong grip prior to the operation seem to lose more strength 3 and 6 months after operation than subjects with average or low strength results (3 months: Spearman −.522.; 6 months: Spearman −.569,
p
= .000).
Conclusions
Pre-operative dynamometer assessment can predict loss of grip force and therefore create realistic post-operative expectations. Patients at risk for prolonged weakness after surgery (especially male subjects with high pre-operative grip force), could, instead of early surgical transversal carpal ligament release, profit from enrolling into an extended conservative therapy (immobilization and anti-inflammatory medication). Additionally, these patients undergoing CTR could enroll into an intensive post-operative occupational therapy with focus on grip force training to improve their recovery.
Level of Evidence: Level III, risk / prognostic study