12.06.2020 | Observational Research | Ausgabe 8/2020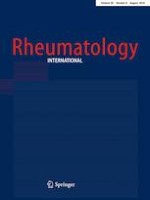 Prevalence and factors associated with osteoporosis and fragility fractures in patients with primary Sjögren syndrome
Zeitschrift:
Autoren:

Tarek Carlos Salman-Monte, Carlos Sanchez-Piedra, Monica Fernandez Castro, Jose Luis Andreu, Victor Martinez Taboada, Alejandro Olivé, José Rosas, Raúl Menor, Beatriz Rodríguez, Angel Garcia Aparicio, Francisco Javier Lopez Longo, Sara Manrique-Arija, Jesus Alberto Garcia Vadillo, Susana Gil Barato, Ruth López-González, Carlos Galisteo, Jorge Gonzalez Martin, Esther Ruiz Lucea, Celia Erausquin, Sheila Melchor, Begoña Moreira, Enrique Raya, Jose María Pego-Reigosa, Natalia Cid, Enrique Júdez, Clara Moriano, Francisco Javier Narváez, Hèctor Corominas, Blanca Garcia Magallon, Carlos Guillen Astete, Ivan Castellvi, Cristina Bohórquez, Javier Loricera, Joaquín Belzunegui, Óscar Illera, Vicenç Torrente-Segarra
Wichtige Hinweise
Publisher's Note
Springer Nature remains neutral with regard to jurisdictional claims in published maps and institutional affiliations.
Abstract
This study aimed at determining socio-demographic and clinical factors of primary Sjögren syndrome (pSS) associated with osteoporosis (OP) and fragility fracture. SJOGRENSER is a cross-sectional study of patients with pSS, classified according to American European consensus criteria developed in 33 Spanish rheumatology departments. Epidemiological, clinical, serological and treatment data were collected and a descriptive analysis was conducted. Bivariate and multivariate analyses were performed using a binomial logistic regression to study the factors associated with OP and fragility fracture in pSS. 437 patients were included (95% women, with a median age of 58.6 years). 300 women were menopausal (76.4%). Prevalence of OP was 18.5% [in men (
N
 = 21) this measured 19%]. A total of 37 fragility fractures were recorded. In the multivariate analysis, there was an association between OP and age: in the 51–64 age range (menopausal women), the OR measured 9.993 (95% CI 2301–43,399,
p
 = 0.002); In the age > 64 years group, OR was 20.610 (4.679–90.774,
p
 < 0.001); between OP and disease duration, OR was 1.046 (1.008–1085,
p
 = 0.017); past treatment with corticosteroids, OR 2.548 (1.271–5.105,
p
 = 0.008). Similarly, an association was found between fragility fractures and age: in the 51–64 age group, OR measured 5.068 (1.117–22,995,
p
 = 0.035), age > 64 years, OR was 7.674 (1.675–35,151,
p
 < 0.009); disease duration, OR 1.049 (CI 1.003–1097,
p
 < 0.036) and the ESSDAI index, OR 1.080 (1.029–1134,
p
 = 0.002). Patients with pSS can develop osteoporosis and fragility fractures over the course of the disease. Age, corticosteroids treatment and disease duration were associated with the development of OP. Disease duration and ESSDAI were associated with the development of fractures in patients with pSS.