01.08.2011 | Review Article | Ausgabe 8/2011 Open Access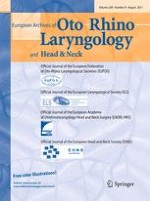 Prevalence of age-related hearing loss in Europe: a review
Zeitschrift:
Autoren:

Thomas Niklaus Roth, Dirk Hanebuth, Rudolf Probst
Wichtige Hinweise
Parts of this review were presented at the International Conference on Adult Hearing Screening in Cernobbio, Italy (June 10–12, 2010).
Abstract
Populations are becoming progressively older thus presenting symptoms of diminished organ function due to degenerative processes. These may be physiological or caused by additional factors damaging the organ. Presbyacusis refers to the physiological age-related changes of the peripheral and central auditory system leading to hearing impairment and difficulty understanding spoken language. In contrast to epidemiological data of other continents, the prevalence of age-related hearing loss (ARHL) in Europe is not well defined, due in part to the use of different classification systems. We performed a systematic literature review with the aim of gaining a picture of the prevalence of ARHL in Europe. The review included only population and epidemiological studies in English since 1970 with samples in European countries with subjects aged 60 years and above. Nineteen studies met our selection criteria and additional five studies reported self-reported hearing impairment. When these data were crudely averaged and interpolated, roughly 30% of men and 20% of women in Europe were found to have a hearing loss of 30 dB HL or more by age 70 years, and 55% of men and 45% of women by age 80 years. Apparent problems in comparing the available data were the heterogeneity of measures and cut-offs for grades of hearing impairment. Our systematic review of epidemiological data revealed more information gaps than information that would allow gaining a meaningful picture of prevalence of ARHL. The need for standardized procedures when collecting and reporting epidemiological data on hearing loss has become evident. Development of hearing loss over time in conjunction with the increase in life expectancy is a major factor determining strategies of detection and correction of ARHL. Thus, we recommend using the WHO classification of hearing loss strictly and including standard audiometric measures in population-based health surveys.