01.12.2017 | Research article | Ausgabe 1/2017 Open Access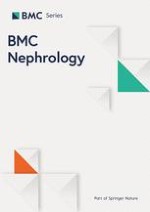 Prevalence of chronic kidney disease associated with cardiac and vascular complications in hypertensive patients: a multicenter, nation-wide study in Thailand
Zeitschrift:
Autoren:

Rungroj Krittayaphong, Ram Rangsin, Bandit Thinkhamrop, Cameron Hurst, Suthee Rattanamongkolgul, Nintita Sripaiboonkij, Wipaporn Wangworatrakul
Abstract
Background
Hypertension and chronic kidney disease (CKD) are common conditions and both are major risk factors for cardiovascular events. The objectives were 1) to study the prevalence of CKD in hypertensive patients and 2) to study the association of CKD with cardiac and vascular complications in a multicenter, nation-wide fashion.
Methods
This cross-sectional study evaluated patients aged 20 years or older who were diagnosed with hypertension and who had been treated for at least 12 months at 831 public hospitals in Thailand during the 2012 study period. Outcome measurements included calculated glomerular filtration rate (GFR) and cardiac and vascular complications that included coronary artery disease, stroke, peripheral arterial disease, heart failure, and atrial fibrillation. Multivariable modeling was conducted to determine independent factors associated with increased risk of cardiac and vascular complications.
Results
A total of 28770 patients were enrolled. Average age was 62.8 years and 37% were male. Prevalence of CKD stage 3 and 4–5 was 33.2 and 4.3%, respectively. Prevalence of cardiac and vascular complications was 10.5% (5% having coronary artery disease, 3.9% stroke, 1.7% heart failure, and 1.2% atrial fibrillation). CKD was an independent risk factor associated with each of the complications and overall cardiac and vascular complications with an adjusted Odds ratio of 1.4 for CKD stage 3 and 1.9 for CKD stage 4–5.
Conclusion
Prevalence of CKD stage 3–5 in hypertensive population was 37.5%. CKD is an independent risk factor for adverse cardiac and vascular outcome.