01.12.2015 | Research article | Ausgabe 1/2015 Open Access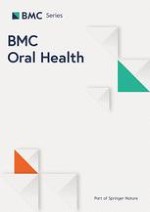 Prevalence of chronic periodontitis in an obese population: a preliminary study
Zeitschrift:
Autoren:

Shahrukh Khan, Roslan Saub, Rathna Devi Vaithilingam, Syarida Hasnur Safii, Shireene Rathna Vethakkan, Nor Adinar Baharuddin
Wichtige Hinweise
Competing interests
The authors declare that they have no competing interest.
Authors' contributions
SK is the principal investigator, carried out periodontal examinations and collection of epidemiological data. NAB was involved in design of the project, supervision in the clinics and drafting the manuscript. RS was involved in project design, supervision and performed the statistical analysis. RDV was involved in supervision, design of this project and drafting of the manuscript. SHS was involved in project design and drafting of manuscript. SRV was involved in the supervision in the obese clinics. All authors read and approved the final manuscript.
Authors' information
Not applicable.
Availability of data and materials
Not applicable.
Abstract
Background
Chronic periodontitis (CP) is a global public health issue. Studies have suggested CP could be linked to obesity due to their similar pathophysiological pathway. The aim of this study is to determine the prevalence of CP and to assess the predictors for CP among the obese Malaysian population.
Methods
This is a cross-sectional study on obese participants. Obesity is defined as an individual who has Body Mass Index (BMI) ≥27.5 kg/m2. A convenience sampling method was used. A total of 165 paricipants were recruited. This study involved answering questionnaires, obtaining biometric and clinical measurements of Visible plaque index (VPI), Gingival bleeding index (GBI), Probing pocket depth (PPD) and Clinical attachment loss (CAL). Data analysis was carried out using SPSS statistical software (SPSS Inc., version 20, US).
Results
A total of 165 participants; 67 (40.6 %) males and 98 (59.4 %) females participated in the study. Mean age of the participants was 43.9 (±8.9). The prevalence of CP among the obese population was found to be 73.9 %. Out of this, 43 and 55 % were categorised as moderate and severe CP respectively. Around 64 % of participants had sites with CAL ≥4 mm and participants with sites with PPD ≥4 mm were reported to be 25 %. Around 83 % of the participants had sites with GBI ≥30 and 92 % of participants had sites with VPI ≥20 %. GBI and VPI were found to have significantly higher odds for CP.
Conclusion
Prevalence of CP was high among obese Malaysians. GBI and VPI were potential predictors for CP in this obese population.