01.12.2018 | Research article | Ausgabe 1/2018 Open Access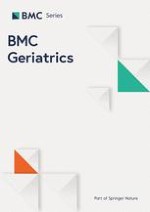 Prevalence of frailty, cognitive impairment, and sarcopenia in outpatients with cardiometabolic disease in a frailty clinic
Zeitschrift:
Autoren:

Yoshiaki Tamura, Joji Ishikawa, Yoshinori Fujiwara, Masashi Tanaka, Nobuo Kanazawa, Yuko Chiba, Ai Iizuka, Sho Kaito, Jun Tanaka, Masamitsu Sugie, Takashi Nishimura, Akiko Kanemaru, Keigo Shimoji, Hirohiko Hirano, Ko Furuta, Akihiko Kitamura, Satoshi Seino, Shoji Shinkai, Kazumasa Harada, Shunei Kyo, Hideki Ito, Atsushi Araki
Abstract
Background
Although frailty and cognitive impairment are critical risk factors for disability and mortality in the general population of older inhabitants, the prevalence and incidence of these factors in individuals treated in the specialty outpatient clinics are unknown.
Methods
We recently established a frailty clinic for comprehensive assessments of conditions such as frailty, sarcopenia, and cognition, and planned 3-year prospective observational study to identify the risk factors for progression of these aging-related statuses. To date, we recruited 323 patients who revealed symptoms suggestive of frailty mainly from a specialty outpatient clinic of cardiology and diabetes. Frailty status was diagnosed by the modified Cardiovascular Health Study (mCHS) criteria and some other scales. Cognitive function was assessed by Mini-Mental State Examination (MMSE), Japanese version of the Montreal Cognitive Assessment (MoCA-J), and some other modalities. Sarcopenia was defined by the criteria of the Asian Working Group for Sarcopenia (AWGS). In this report, we outlined our frailty clinic and analyzed the background characteristics of the subjects.
Results
Most patients reported hypertension (78%), diabetes mellitus (57%), or dyslipidemia (63%), and cardiovascular disease and probable heart failure also had a higher prevalence. The prevalence of frailty diagnosed according to the mCHS criteria, cognitive impairment defined by MMSE (≤27) and MoCA-J (≤25), and of AWGS-defined sarcopenia were 24, 41, and 84, and 31%, respectively. The prevalence of frailty and cognitive impairment increased with aging, whereas the increase in sarcopenia prevalence plateaued after the age of 80 years. No significant differences were observed in the prevalence of frailty, cognitive impairment, and sarcopenia between the groups with and without diabetes mellitus, hypertension, or dyslipidemia with a few exceptions, presumably due to the high-risk subjects who had multiple cardiovascular comorbidities. A majority of the frail and sarcopenic patients revealed cognitive impairment, whereas the frequency of suspected dementia among these patients were both approximately 20%.
Conclusions
We found a high prevalence of frailty, cognitive impairment, and sarcopenia in patients with cardiometabolic disease in our frailty clinic. Comprehensive assessment of the high-risk patients could be useful to identify the risk factors for progression of frailty and cognitive decline.