01.12.2016 | Case Report | Ausgabe 1/2016 Open Access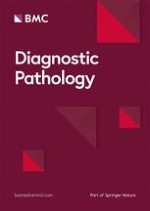 Primary mucinous carcinoma with rhabdoid cells of the thyroid gland: a case report
Zeitschrift:
Autoren:

Mioko Matsuo, Masazumi Tuneyoshi, Mari Mine
Abstract
Background
Primary mucinous carcinoma of the thyroid gland is a rare disease; only 6 cases of primary mucinous carcinoma of the thyroid have been previously reported. Primary mucinous carcinoma of the thyroid gland with incomplete tumor resection tends to be associated with a poor prognosis, resulting in death within a few months. An early and appropriate diagnosis may contribute to improvement in patient prognosis; however, it is extremely difficult to diagnose primary mucinous carcinoma of the thyroid. We present the seventh reported case of primary mucinous carcinoma in the thyroid gland; moreover, rhabdoid cells were detected, which, to our knowledge, is a novel finding.
Case presentation
An 81-year-old Japanese woman was initially diagnosed with a poorly differentiated thyroid carcinoma, and she underwent a hemithyroidectomy. Pathological examination revealed the presence of abundant mucus and agglomeration of large atypical cells. Rhabdoid cells were also seen scattered among the tumor cells. Immunostaining was performed for various markers, and on the basis of these results, we diagnosed the lesion as primary mucinous carcinoma with rhabdoid cells in the thyroid gland. Ten months after surgery, recurrence was noted in the paratracheal lymph nodes; therefore, total resection of the residual thyroid gland and paratracheal lymphadenectomy with thyroid-stimulating hormone suppression were performed. The patient is currently alive and disease-free.
Conclusions
The current case is of interest not only because of the rare histological findings, but also because the patient achieved long-term survival following diagnosis of a mucinous carcinoma. We believe this report will be helpful for diagnosing future cases of mucinous carcinoma of the thyroid.