12.10.2017 | Original Article | Ausgabe 2/2018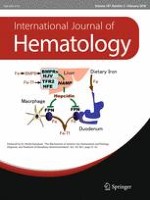 Prognostic value of genetic mutations in adolescent and young adults with acute myeloid leukemia
Zeitschrift:
Autoren:

Yachiyo Kuwatsuka, Daisuke Tomizawa, Rika Kihara, Yasunobu Nagata, Norio Shiba, Yuka Iijima-Yamashita, Akira Shimada, Takao Deguchi, Hayato Miyachi, Akio Tawa, Takashi Taga, Akitoshi Kinoshita, Hideki Nakayama, Nobutaka Kiyokawa, Akiko Moriya Saito, Katsuyoshi Koh, Hiroaki Goto, Yoshiyuki Kosaka, Norio Asou, Shigeki Ohtake, Shuichi Miyawaki, Yasushi Miyazaki, Toru Sakura, Yukiyasu Ozawa, Noriko Usui, Heiwa Kanamori, Yoshikazu Ito, Kiyotoshi Imai, Youko Suehiro, Shinichi Kobayashi, Kunio Kitamura, Emiko Sakaida, Seishi Ogawa, Tomoki Naoe, Yasuhide Hayashi, Keizo Horibe, Atsushi Manabe, Shuki Mizutani, Souichi Adachi, Hitoshi Kiyoi
Wichtige Hinweise
Electronic supplementary material
The online version of this article (doi:
10.​1007/​s12185-017-2340-z
) contains supplementary material, which is available to authorized users.
Yachiyo Kuwatsuka and Daisuke Tomizawa contributed equally to this work.
Abstract
Clinical outcomes and the genetic background of acute myeloid leukemia (AML) in adolescent and young adults (AYAs) are known to differ in younger children and older adults. To clarify the impact of genetic mutations on clinical outcomes of AYAs with AML, we analyzed data from the JPLSG AML-05 and JALSG AML201 studies. AYAs aged 15–39 years (
n
= 103) were included.
FLT3
-ITD,
KIT
,
CEBPA
,
NRAS
,
KRAS
,
WT1
,
MLL
-PTD, and
NPM1
mutations were analyzed. Overall survival (OS) of the AYAs was 61% and event-free survival was 38% at 3 years.
FLT3
-ITD (HR 2.10; 95% CI 1.07–4.12;
p
= 0.031) and
NPM1
(HR 0.24; 95% CI 0.06–1.00;
p
= 0.050) mutations were associated with risk of overall mortality in multivariate analysis. OS was significantly different according to
FLT3
-ITD and
NPM1
mutation status (
p
= 0.03). Survival was 100% with
NPM1
mutations in the absence of
FLT3
-ITD and 35% (95% CI 14–57%) with
FLT3
-ITD in the absence of
NPM1
mutations. The OS of AYAs, children (
n
= 413) and older adults (
n
= 124) of the AML-05 and AML201 participants were significantly different (
p
< 0.0001). This is the first report to combine clinical and genetic data of AYA AML from the major Japanese pediatric and adult study groups.