01.12.2010 | Assisted Reproduction Technologies | Ausgabe 12/2010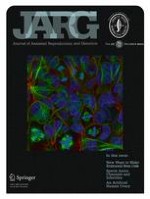 Prolonged gonadotropin stimulation is associated with decreased ART success
Zeitschrift:
Autoren:

Meleen Chuang, Athena Zapantis, Martina Taylor, Sangita K. Jindal, Genevieve S. Neal-Perry, Harry J. Lieman, Alex Joel Polotsky
Wichtige Hinweise
Capsule
In this study of 699 ART cycles, ovarian stimulation for 13 days or longer was independently associated with lower live birth rates when compared to shorter cycles.
Abstract
Purpose
To evaluate whether the duration of gonadotropin stimulation predicts the likelihood of live birth after ART.
Methods
All IVF or ICSI cycles using fresh autologous oocytes at our institution between January 2004 and December 2007 were analyzed.
Results
Out of 699 cycles resulting in oocyte retrieval, 193 produced a live birth (27.6%). Women who achieved a live birth had a significantly shorter stimulation phase (11.1 vs. 11.5 days, respectively). Multivariable analysis suggested that 13 days or longer of stimulation decreased the likelihood of a live birth by 53% as compared to cycles that were 10–12 days long (odds ratio [OR] 0.47; 95% confidence interval [CI]: 0.30–0.75) after adjustment for female age, maximum historical FSH, total dose of gonadotropin received, oocytes retrieved, embryos transferred, antagonist suppression and PCOS diagnosis.
Conclusions
Prolonged duration of gonadotropin stimulation is an independent negative predictor of ART success in our cohort.