01.12.2016 | Original research article | Ausgabe 1/2016 Open Access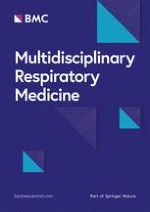 Prospective study of the efficacy of antibiotics versus antitussive drugs for the management of URTI-related acute cough in children
Zeitschrift:
Autoren:

Alessandro Zanasi, Luigi Lanata, Federico Saibene, Giovanni Fontana, Peter V. Dicpinigaitis, Valentina Venier, Francesco De Blasio
Wichtige Hinweise
Competing interests
This study was supported by Dompé farmaceutici through an unrestricted grant. Lanata, Saibene and Venier are employees of Dompé farmaceutici, Medical Department. Dompé farmaceutici is a company that manufactures and commercializes levodropropizine.
Dicpinigaitis has served as a consultant to Dompé.
De Blasio has been member of an International Advisory Group supported by an unrestricted educational grant of Dompé Farmaceutici SpA at National aqs well International meetings.
Giovanni Fontana received research grants or fees from Menarini, Edmond Pharma, Dompé Farmaceutici SpA, Vertona Pharma, AMD.
Authors' contributions
AZ carried out the conception of the study and set up the task group of the authors. All authors carried out the literature review. All authors carried out the draft paper. All authors read and approved the final manuscript.
Abstract
Background
Acute cough is one of the most frequent symptoms prompting a visit to a health care provider, usually following a viral upper respiratory tract infection (URTI). The disproportionate use of antibiotics in children with URTIs, recently highlighted in the medical literature, could lead to associated side effects, without any beneficial effect. Although an early, albeit inappropriate, antibiotic prescription increases parental satisfaction, URTIs are predominantly viral infections and are generally self-limiting. Therefore the aim of this study was to analyze the effectiveness of antibiotics compared to symptomatic drugs (central and peripheral antitussives) on URTI-related cough in a pediatric population.
Methods
This is a prospective observational study of 330 children who required pediatric consultation for acute cough. Severity, frequency and type of cough were assessed at baseline and after 6 days of treatment (antitussives
n
 = 123, antibiotics
n
 = 89 or combination of them
n
 = 38) or no treatment (
n
 = 80). The outcome of cough management after 6 days was analyzed in terms of resolution, improvement, no change or worsening of symptoms. Study assessments were performed using a standardized questionnaire administered to parents.
Results
Between children treated with antitussives or antibiotics, there was a statistically significant difference in the resolution of cough. Moreover, if considering peripheral antitussives, the resolution of cough was significantly higher with antitussives than with antibiotics (
p
 < 0.01). There was no difference in cough resolution between children treated with antitussives and those receiving a combination of antibiotics and antitussives, either central and peripheral antitussives.
Conclusion
Antibiotics are generally not useful nor appropriate in treating acute cough due to the common cold. Furthermore, inappropriate antibiotic use introduces the possibility of adverse side effects as well as promotion of antibiotic resistance. The findings of the present study suggest that antitussives, especially peripherally acting agents, represent an effective treatment option for acute pediatric cough caused by URTIs.