01.12.2019 | Research article | Ausgabe 1/2019 Open Access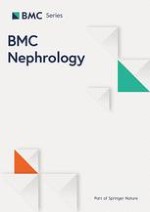 Quality of life in adolescents with chronic kidney disease who initiate haemodialysis treatment
Zeitschrift:
Autoren:

Stéphanie Clavé, Michel Tsimaratos, Mohamed Boucekine, Bruno Ranchin, Rémi Salomon, Olivier Dunand, Arnaud Garnier, Annie Lahoche, Marc Fila, Gwenaelle Roussey, Francoise Broux, Jérome Harambat, Sylvie Cloarec, Soraya Menouer, Georges Deschenes, Isabelle Vrillon, Pascal Auquier, Julie Berbis
Abstract
Background
To describe the quality of life of adolescents initiating haemodialysis, to determine the factors associated with quality of life, and to assess coping strategies and their impact on quality of life.
Methods
All adolescents initiating haemodialysis between September 2013 and July 2015 in French paediatric haemodialysis centres were included. Quality of life data were collected using the "Vécu et Santé Perçue de l'Adolescent et l'Enfant" questionnaire, and coping data were collected using the Kidcope questionnaire. Adolescent's quality of life was compared with age- and sex-matched French control.
Results
Thirty-two adolescents were included. Their mean age was 13.9 ± 2.0 years. The quality of life score was lowest in leisure activities and highest in relationships with medical staff. Compared with the French control, index, energy-vitality, relationships with friends, leisure activities and physical well-being scores were significantly lower in haemodialysis population. In multivariate analyses, active coping was positively associated with quality of life and especially with energy-vitality, relationships with parents and teachers, and school performance. In contrast, avoidant and negative coping were negatively associated with energy-vitality, psychological well-being and body image for avoidant coping, and body image and relationships with medical staff for negative coping.
Conclusions
The quality of life of haemodialysis adolescents, and mainly the dimensions of leisure activities, physical well-being, relationships with friends and energy-vitality, were significantly altered compared to that of the French population. The impact of coping strategies on quality of life seems to be important. Given the importance of quality of life and coping strategies in adolescents with chronic disease, health care professionals should integrate these aspects into care management.