01.12.2016 | Research | Ausgabe 1/2016 Open Access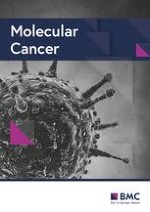 Rad51C-ATXN7 fusion gene expression in colorectal tumors
Zeitschrift:
Autoren:

Arjun Kalvala, Li Gao, Brittany Aguila, Kathleen Dotts, Mohammad Rahman, Serge P. Nana-Sinkam, Xiaoping Zhou, Qi-En Wang, Joseph Amann, Gregory A. Otterson, Miguel A. Villalona-Calero, Wenrui Duan
Wichtige Hinweise
Electronic supplementary material
The online version of this article (doi:
10.​1186/​s12943-016-0527-1
) contains supplementary material, which is available to authorized users.
Abstract
Background
Fusion proteins have unique oncogenic properties and their identification can be useful either as diagnostic or therapeutic targets. Next generation sequencing data have previously shown a fusion gene formed between Rad51C and ATXN7 genes in the MCF7 breast cancer cell line. However, the existence of this fusion gene in colorectal patient tumor tissues is largely still unknown.
Methods
We evaluated for the presence of Rad51C-ATXN7 fusion gene in colorectal tumors and cells by RT-PCR, PCR, Topo TA cloning, Real time PCR, immunoprecipitation and immunoblotting techniques.
Results
We identified two forms of fusion mRNAs between Rad51C and ATXN7 in the colorectal tumors, including a Variant 1 (fusion transcript between Rad51C exons 1–7 and ATXN7 exons 6–13), and a Variant 2 (between Rad51C exons 1–6 and ATXN7 exons 6–13).
In silico
analysis showed that the Variant 1 produces a truncated protein, whereas the Variant 2 was predicted to produce a fusion protein with molecular weight of 110 KDa. Immunoprecipitation and Western blot analysis further showed a 110 KDa protein in colorectal tumors. 5-Azacytidine treatment of LS-174 T cells caused a 3.51-fold increase in expression of the fusion gene (Variant 2) as compared to no treatment controls evaluated by real time PCR.
Conclusion
In conclusion we found a fusion gene between DNA repair gene Rad51C and neuro-cerebral ataxia Ataxin-7 gene in colorectal tumors. The in-frame fusion transcript of Variant 2 results in a fusion protein with molecular weight of 110 KDa. In addition, we found that expression of fusion gene is associated with functional impairment of Fanconi Anemia (FA) DNA repair pathway in colorectal tumors. The expression of Rad51C-ATXN7 in tumors warrants further investigation, as it suggests the potential of the fusion gene in treatment and predictive value in colorectal cancers.