01.12.2018 | Research | Ausgabe 1/2018 Open Access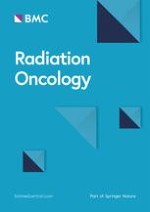 Radiation-induced muscle fibrosis rat model: establishment and valuation
Zeitschrift:
Autoren:

Yue Zhou, Xiaowu Sheng, Feiyan Deng, Hui Wang, Liangfang Shen, Yong Zeng, Qianxi Ni, Shibin Zhan, Xiao Zhou
Abstract
Background
Lack of animal model of radiation induced muscle fibrosis, this study aimed to establish such a model by using 90 Gy single dose irradiation to mimic clinical relevance and also to explore the potential post-irradiation regenerative mechanism.
Methods
SD rats were randomly divided into dose investigation groups and time gradient groups. Group1–6 were irradiated with a single dose of 65Gy, 70Gy, 75Gy, 80Gy, 85Gy and 90Gy respectively, and the degree of rectus femoris fibrosis in the irradiated area was detected at 4 weeks after irradiation. Group 7–9 were irradiated with a single dose of 90Gy, and the results were detected 1, 2, 4, and 8 weeks after irradiation. Then the general condition of rats was recorded. Masson staining was used to detect muscle fibrosis. The ultrastructure of muscles was observed by electron microscope, and the expression changes of satellite cell proliferation and differentiation related genes were detected by quantitative real-time-PCR.
Results
A single dose of 90Gy irradiation could cause muscle fibrosis in rats. As time goes on, the severity of muscle fibrosis and the expression of TGF- β1 increased. Significant swelling of mitochondria, myofilament disarrangement and dissolution, obvious endothelial cell swelling, increased vascular permeability, decrease of blood cell, deposition of fibrosis tissue around the vessel could be found compared with the control group. At around the 4th week, the expressions of Pax7, Myf5, MyoD, MyoG, Mrf4 increased.
Conclusion
Irradiation of 90Gy can successfully establish the rat model of radiation-induced muscle fibrosis. This model demonstrated that regenerative process was initiated by the irradiation only at an early stage, which can serve a suitable model for investigating regenerative therapy for post-radiation muscle fibrosis.