19.03.2020 | Research article | Ausgabe 1/2020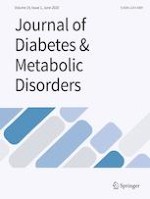 Rapid degradation of ABCA1 protein following cAMP withdrawal and treatment with PKA inhibitor suggests ABCA1 is a short-lived protein primarily regulated at the transcriptional level
Zeitschrift:
Autoren:

Neelam Srivastava, Angelo B. Cefalu, Maurizio Averna, Rai Ajit K. Srivastava
Wichtige Hinweise
Publisher's note
Springer Nature remains neutral with regard to jurisdictional claims in published maps and institutional affiliations.
Abstract
Objectives
ATP-binding cassette transporter A1 (ABCA1) is a key player in the reverse cholesterol transport (RCT) and HDL biogenesis. Since RCT is compromised as a result of ABCA1 dysfunction in diabetic state, the objective of this study was to investigate the regulation of ABCA1 in a stably transfected 293 cells expressing ABCA1 under the control of cAMP response element.
Methods
To delineate transcriptional and posttranscriptional regulation of ABCA1, 293 cells were stably transfected with the full length ABCA1 cDNA under the control of CMV promoter harboring cAMP response element. cAMP-mediated regulation of ABCA1 and cholesterol efflux were studied in the presence of 8-Br-cAMP and after withdrawal of 8-Br-cAMP. The mechanism of cAMP-mediated transcriptional induction of the ABCA1 gene was studied in protein kinase A (PKA) inhibitors-treated cells.
Results
The transfected 293 cells expressed high levels of ABCA1, while non-transfected wild-type 293 cells showed very low levels of ABCA1. Treatments of transfected cells with 8-Br-cAMP increased ABCA1 protein by 10-fold and mRNA by 20-fold. Cholesterol efflux also increased in parallel. Withdrawal of 8-Br-cAMP caused time-dependent rapid diminution of ABCA1 protein and mRNA, suggesting ABCA1 regulation at the transcriptional level. Treatment with PKA inhibitors abolished the cAMP-mediated induction of the ABCA1 mRNA and protein, resulting dampening of ABCA1-dependent cholesterol efflux.
Conclusions
These results demonstrate that transfected cell line mimics cAMP response similar to normal cells with natural ABCA1 promoter and suggest that ABCA1 is a short-lived protein primarily regulated at the transcriptional level to maintain cellular cholesterol homeostasis.