01.12.2017 | Review | Ausgabe 1/2017 Open Access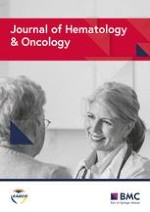 Recent advances of bispecific antibodies in solid tumors
Zeitschrift:
Autoren:

Shengnan Yu, Anping Li, Qian Liu, Xun Yuan, Hanxiao Xu, Dechao Jiao, Richard G. Pestell, Xinwei Han, Kongming Wu
Abbreviations
ADCC
Antibody-dependent cell mediated cytotoxicity
ADCP
Antibody-dependent cellular phagocytosis
BiTEs
Bispecific T cell engagers
CART
Chimeric antigen receptor T cell
CDC
Complement-dependent cytotoxicity
CRPC
Castrate resistant prostate cancer
DOTA
1, 4, 7, 10-tetraazacyclododecane-1, 4, 7, 10-tetraacetic acid
DTPA
Diethylenetriaminepentaaceticacid
EGFR
Epidermal growth factor receptor
EOC
Epithelial ovarian cancer
EpCAM
Epithelial cell adhesion molecule
FDA
Food and Drug Administration
G-CSF
Granulocyte-colony stimulating factor
GM-CSF
Granulocyte-macrophage colony stimulating factor
HAHA
Human anti-human antibody
HAMA
Human anti-mouse antibody
HER
Human epidermal growth factor receptor
HNSCC
Head and neck squamous-cell carcinoma
HSG
Histamine-succinyl-glycine
IGF-1R
Insulin-like growth factor-1 receptor
MTC
Medullary thyroid carcinoma
NSCLC
Non-small-cell lung cancer
PBMCs
Peripheral blood mononuclear cells
PET
Positron-emission tomography
PFS
Progression-free survival
pRIT
Pretargeting radioimmunotherapy
PSMA
Prostate-specific membrane antigen
scFv
Single-chain variable fragments
SPECT
Single photon emission computed tomography
TNFα
Tumor necrosis factor alpha
Background
Targeting antigens
Conclusion
In this review, we concluded the current preclinical and clinical studies on BsAb against solid tumors, particularly anti-EpCAM, HER family, CEA, and PSMA. Taken together, the preclinical studies of BsAb showed potent antitumor efficacy, but the outcome of most clinical trials did not reach our expectation. In solid tumor, finding appropriate targets is the first step for the successful immunotherapy. The ideal target for BsAb would be the tumor specific antigens which are homogenously expressed on the surface of malignant cell and play a critical role in tumorigenesis. In spite, there are many antigens expressed in various tumor cells; it also needs to make great efforts to seek out more appropriate antigens to improve the specificity. The drawback of Fc-free BsAb is short half-life caused by its small molecular mass. To overcome the limitation, investigators developed several approaches including chemical coupling of polyethylene glycol (PEG) to the small molecule protein, fusion to heavy chain fragments (Fc/CH3) or HSA. Among these approaches, fusion of recombinant BsAb molecules to HSA significantly increased the circulation time but did not reduce the binding ability of recombinant BsAbs [
154
]. In addition, several obstacles have remained to be overcome for a successful application of BsAb in solid tumor, such as toxicity to normal tissues and low tumor/blood ratios. For example, compared with two-step method of pRIT, the three-step method significantly increased the tumor/blood ratios [
133
]. Based on the catumaxomab, blinatumomab, solitomab and other BsAbs, Trivedi et al. summarized the challenges of clinical pharmacology, pharmacometrics, and bioanalysis of BsAb and the possible solutions [
155
]. Through continuous efforts, investigators could find better approaches to overcome these challenges.
Acknowledgements
Not applicable.
Availability of data and materials
Data sharing is not applicable to this article as no datasets were generated or analyzed during the current study.
Funding
This work was supported by the National Natural Science Foundation of China (NSFC) No. 81572608, 81172422 and Wuhan Science and Technology Bureau No. 2017060201010170 (KW), and the National High Technology Research and Development Program of China (No. 2015AA020301).
Ethics approval and consent to participate
Not applicable.
Consent for publication
Not applicable.
Competing interests
The authors declare that they have no competing interests.
Publisher's Note
Springer Nature remains neutral with regard to jurisdictional claims in published maps and institutional affiliations.
Open Access
This article is distributed under the terms of the Creative Commons Attribution 4.0 International License (
http://​creativecommons.​org/​licenses/​by/​4.​0/​
), which permits unrestricted use, distribution, and reproduction in any medium, provided you give appropriate credit to the original author(s) and the source, provide a link to the Creative Commons license, and indicate if changes were made. The Creative Commons Public Domain Dedication waiver (
http://​creativecommons.​org/​publicdomain/​zero/​1.​0/​
) applies to the data made available in this article, unless otherwise stated.