05.08.2017 | Preclinical Study | Ausgabe 2/2017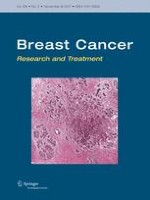 Riluzole synergizes with paclitaxel to inhibit cell growth and induce apoptosis in triple-negative breast cancer
Zeitschrift:
Autoren:

Cecilia L. Speyer, Miriam A. Bukhsh, Waris S. Jafry, Rachael E. Sexton, Sudeshna Bandyopadhyay, David H. Gorski
Wichtige Hinweise
Electronic supplementary material
The online version of this article (doi:
10.​1007/​s10549-017-4435-x
) contains supplementary material, which is available to authorized users.
Availability of data and materials: The dataset supporting the conclusions of this article is available in the GEO repository, (Accession #GSE96653:
https://​www.​ncbi.​nlm.​nih.​gov/​geo/​query/​acc.​cgi?​acc=​GSE96653
) and is also included within the article (and in Online Resource 1). Additional file 1 is an excel (.xls) file listing the 290 genes found to be differentially expressed by riluzole.
Abstract
Purpose
One in eight women will develop breast cancer, 15–20% of whom will have triple-negative breast cancer (TNBC), an aggressive breast cancer with no current targeted therapy. We have demonstrated that riluzole, an FDA-approved drug for treating amyotrophic lateral sclerosis, inhibits growth of TNBC. In this study, we explore potential synergism between riluzole and paclitaxel, a chemotherapeutic agent commonly used to treat TNBC, in regulating TNBC proliferation, cell cycle arrest, and apoptosis.
Methods
TNBC cells were treated with paclitaxel and/or riluzole and synergistic effects on cell proliferation were quantified via MTT assay and CompuSyn analysis. Apoptosis was observed morphologically and by measuring cleaved PARP/caspase three products. Microarray analysis was performed using MDA-MB-231 cells to examine cell cycle genes regulated by riluzole and any enhanced effects on paclitaxel-mediated cell cycle arrest, determined by FACS analysis. These results were confirmed in vivo using a MDA-MB-231 xenograft model.
Results
Strong enhanced or synergistic effects of riluzole on paclitaxel regulation of cell cycle progression and apoptosis was demonstrated in all TNBC cells tested as well as in the xenograft model. The MDA-MB-231, SUM149, and SUM229 cells, which are resistant to paclitaxel treatment, demonstrated the strongest synergistic or enhanced effect. Key protein kinases were shown to be upregulated in this study by riluzole as well as downstream cell cycle genes regulated by these kinases.
Conclusions
All TNBC cells tested responded synergistically to riluzole and paclitaxel strongly suggesting the usefulness of this combinatorial treatment strategy in TNBC, especially for patients whose tumors are relatively resistant to paclitaxel.