01.12.2017 | Research article | Ausgabe 1/2017 Open Access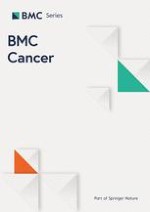 Risk factors for aspiration pneumonia after definitive chemoradiotherapy or bio-radiotherapy for locally advanced head and neck cancer: a monocentric case control study
Zeitschrift:
Autoren:

Sadayuki Kawai, Tomoya Yokota, Yusuke Onozawa, Satoshi Hamauchi, Akira Fukutomi, Hirofumi Ogawa, Tsuyoshi Onoe, Tetsuro Onitsuka, Takashi Yurikusa, Akiko Todaka, Takahiro Tsushima, Yukio Yoshida, Yosuke Kito, Keita Mori, Hirofumi Yasui
Abbreviations
3D-CRT
Three-dimensional conformal radiation therapy
ACE
Angiotensin-converting enzyme
AIC
Akaike information criterion
ARBs
Angiotensin II receptor blockers
ECOG
Eastern Cooperative Oncology Group
GABA-A
Gamma-amino-butyric acid type A
IMRT
Intensity-modulated radiation therapy
SND
Selective neck dissection
Background
Chemoradiotherapy (CRT) is a standard treatment for locally advanced head and neck cancer (HNC) [
1
]. Radiotherapy (RT) with cetuximab, defined as bio-radiotherapy (BRT), is also considered as a treatment option for patients with locally advanced HNC [
2
]. Compared with radical surgery, CRT and BRT have an advantage of preserving organ function and patients' quality of life; however, their toxicities are not less harmful than the risks associated with surgery. In the previous clinical trial RTOG 91–11 [
3
], non-cancer-related death was more common among patients treated with CRT than with RT alone in a further follow-up, despite the higher rates of laryngeal preservation [
4
]. This suggests that patients cured by CRT need appropriate management against late toxicity.
Aspiration pneumonia is recognized as pneumonia secondary to the inhalation of food particles, saliva, or gastric acid. Patients with HNC who have undergone definitive CRT tend to have swallowing dysfunction due to mucositis during the treatment period or due to radiation-induced fibrosis of the oropharyngeal musculature after completion of the treatment [
5
]. Szczesniak et al. [
6
]. reported that approximately 52% of patients who received RT and 69% who received CRT suffered from dysphasia after treatment, and aspiration pneumonia accounted for 19% of non-cancer-related deaths. Additionally, Xu et al. [
7
]. suggested that aspiration pneumonia was a poor prognostic factor for patients with HNC who received CRT. Therefore, clinicians should assess the risk of aspiration pneumonia in order to identify patients for whom efforts to prevent it should be implemented.
The purpose of this study was to identify clinical risk factors for aspiration pneumonia after definitive CRT or BRT for patients with advanced HNC. In particular, we focused on the cause-specific incidence of aspiration pneumonia, taking competing events of death and resection of the primary lesion into account.
Methods
Results
Discussion
Conclusions
We investigated the cause-specific incidence and identified risk factors for aspiration pneumonia following definitive CRT or BRT for patients with locally advanced HNC. The prediction of aspiration pneumonia may be necessary to preserve the quality of life and extend life expectancy for patients. Long-term follow-up and further prospective studies are needed to validate the usefulness of our predictive model.
Acknowledgements
Not applicable.
Availability of data and material
The data analyzed during the current study are available from the corresponding author on reasonable request.
Authors' contributions
Conceptualization: SK, Writing an original draft: SK, Project administration: TY, Review and editing: TY, YO, AF, Formal analysis: KM, Supervision: HY, Investigation of data: SK, TY, SH, HO, TO, TO, TY, AT, TT, YY, YK, and All authors read and approved the final manuscript.
Competing interests
The authors declare that they have no competing interests.
Consent for publication
Not applicable.
Ethics approval and consent to participate
This study was approved by the Institutional Review Committee of Shizuoka Cancer Center (Decision number 27-J104-27-1) and met the standards set forth in the Declaration of Helsinki. Authors obtained written informed consent from the participants. If it was difficult to get, authors provided the information of this study and patients' right on the website or in a notice board at the hospital.
Open Access
This article is distributed under the terms of the Creative Commons Attribution 4.0 International License (
http://​creativecommons.​org/​licenses/​by/​4.​0/​
), which permits unrestricted use, distribution, and reproduction in any medium, provided you give appropriate credit to the original author(s) and the source, provide a link to the Creative Commons license, and indicate if changes were made. The Creative Commons Public Domain Dedication waiver (
http://​creativecommons.​org/​publicdomain/​zero/​1.​0/​
) applies to the data made available in this article, unless otherwise stated.