11.11.2018 | Original Article - Vascular Neurosurgery - Aneurysm | Ausgabe 12/2018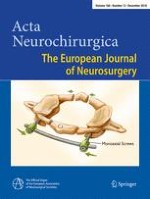 Risk factors for growth of conservatively managed unruptured intracranial aneurysms
Zeitschrift:
Autoren:

Enrico Giordan, Thomas J. Sorenson, Waleed Brinjikji, Roanna Vine, Giuseppe Lanzino
Wichtige Hinweise
This article is part of the Topical Collection on
Vascular Neurosurgery - Aneurysm
Comments
This interesting article, from an experienced and scholarly unit, confirms some things that we know and informs us of some that we didn't know yet.
To make it simple - first, unsurprisingly, unruptured aneurysms enlarge over time. The process is accelerated if the UIA is 5mm or more at discovery. Curiously, these authors show evidence that this growth appears to taper off after a few years (the rate was materially higher in the first three years after discovery). Second, basilar caput aneurysms have a higher growth rate than other sites. Third - and previously unknown to me - weight loss during the observation period is a risk factor for UIA growth.
What they do not report, unfortunately, is the incidence of SAH in this series of elegantly followed UIA's. This would be useful and fascinating data to know.
The implications of this study are intuitive to anyone who must routinely counsel patients about what to do for a UIA. As for me, my default setting is for treatment, so long as the treatment risk is low. I remain unconvinced that we know enough about UIA's and their natural history to declare with certainty that any aneurysm is truly innocent.
Christopher M. Loftus
Philadelphia, USA
Abstract
Purpose
Unruptured intracranial aneurysms (UIAs) occur in 2–3% of the adult population, but, once discovered, do not always require treatment. Untreated patients are usually followed with serial imaging to identify interval growth. In this study, we assessed the risk and risk factors for growth in a homogenous series of patients with conservatively managed UIAs.
Methods
Data from consecutive patients without history of subarachnoid hemorrhage and a conservatively managed UIA were retrospectively reviewed and only patients with at least 2 years of radiological follow-up were included in our study. We evaluated patients for the incidence of UIA growth, as well as analyzed risk factors for UIA growth.
Results
In 349 patients and 385 conservatively managed UIAs with 2210 patient-years of radiological follow-up, the risk of growth was 2.9% per aneurysm-year. Size (diameter greater than 5 mm), location (basilar artery apex), and weight loss (decrease in BMI over follow-up period) were all significantly associated with increased risk of UIA growth. There was a greater risk of UIA growth during the first 3 years of follow-up (7.5% per aneurysm-year) compared to the remaining years (2.7% per aneurysm-year).
Conclusions
Conservatively managed UIAs in patients without prior history of SAH have a 2.9% risk of growth per aneurysm-year. UIAs greater than 5 mm in diameter, those located at the basilar artery apex, or patients who experience a decrease in BMI are more likely to grow and warrant closer follow-up. The risk of aneurysm growth is increased in the few years after diagnosis and decreases afterward.