01.12.2018 | Research | Ausgabe 1/2018 Open Access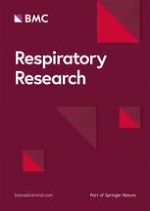 Rituximab for auto-immune alveolar proteinosis, a real life cohort study
Zeitschrift:
Autoren:

Berenice Soyez, Raphael Borie, Cedric Menard, Jacques Cadranel, Leonidas Chavez, Vincent Cottin, Emmanuel Gomez, Sylvain Marchand-Adam, Sylvie Leroy, Jean-Marc Naccache, Hilario Nunes, Martine Reynaud-Gaubert, Laurent Savale, Abdellatif Tazi, Lidwine Wemeau-Stervinou, Marie-Pierre Debray, Bruno Crestani
Abstract
Background
Whole lung lavage is the current standard therapy for pulmonary alveolar proteinosis (PAP) that is characterized by the alveolar accumulation of surfactant. Rituximab showed promising results in auto-immune PAP (aPAP) related to anti-GM-CSF antibody.
Methods
We aimed to assess efficacy of rituximab in aPAP in real life and all patients with aPAP in France that received rituximab were retrospectively analyzed.
Results
Thirteen patients were included. No patients showed improvement 6 months after treatment, but, 4 patients (30%) presented a significant decrease of alveolar-arterial difference in oxygen after 1 year. One patient received lung transplantation and one patient was lost of follow-up within one year. Although a spontaneous improvement cannot be excluded in these 4 patients, improvement was more frequent in patients naïve to prior specific therapy and with higher level of anti-GM-CSF antibodies evaluated by ELISA. No serious adverse event was evidenced.
Conclusions
These data do not support rituximab as a second line therapy for patients with refractory aPAP.