01.12.2017 | Research | Ausgabe 1/2017 Open Access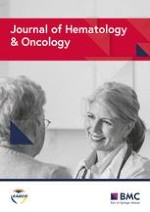 Role of AP-2α and MAPK7 in the regulation of autocrine TGF-β/miR-200b signals to maintain epithelial-mesenchymal transition in cholangiocarcinoma
Zeitschrift:
Autoren:

Dawei Zhang, Haiyan Li, Xiaofeng Jiang, Liangqi Cao, Zilong Wen, Xuewei Yang, Ping Xue
Abstract
Background
Cholangiocarcinoma (CCA) is characterized by early lymphatic, metastasis, and low survival rate. Epithelial-mesenchymal transition (EMT) is able to induce tumor metastasis. Although the TGF-β/miR-200 signals promote EMT in various types of cancer, the regulatory mechanism in CCA is still unclear.
Methods
Expression of miR-200b, TGF-β, and EMT markers were measured in tumor samples and cell lines by qRT-PCR and western blot. CCK8 assay was performed to measure the cell viability. Transwell assay was used to evaluate migration and invasion. The target genes of miR-200b and transcription factor of TGF-β were analyzed using dual-luciferase reporter system.
Results
We have demonstrated that CCA exhibited remarkable EMT phenotype and miR-200b was reduced in CCA patients (
n
= 20) and negatively correlated to TGF-β. Moreover, two CCA cells, HCCC, and RBE, with epithelial appearances treated with TGF-β, showed fibroblastic-like cell morphology with downregulated miR-200b expression. Forced expression of miR-200b abrogated TGF-β-induced EMT initiation, with decreased cell proliferation, migration, and invasion in vitro. Also, TFAP2A (encode AP-2α) and MAPK7 were found to be targeted by miR-200b to downregulate EMT and AP-2α inhibited miR-200b by directly promoting transcription of TGFB1. Overexpression of MAPK7 significantly reversed miR-200b-induced inhibition of EMT, migration, and proliferation by increasing the expression of TGF-β, cyclin D1, and Cdk2. Further, the administration of miR-200b induced a remarkably tumor regression in vivo and reduced the effect of TGF-β-related EMT in AP-2α and MAPK7-dependent manner.
Conclusions
Our study highlights that miR-200b-based gene therapy is effective in the treatment of CCA.