01.12.2017 | Review | Ausgabe 1/2017 Open Access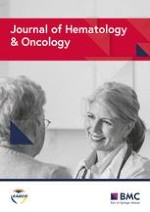 Role of modern immunotherapy in gastrointestinal malignancies: a review of current clinical progress
Zeitschrift:
Autoren:

Zin W. Myint, Gaurav Goel
Background
Gastrointestinal (GI) cancers are a group of highly aggressive malignancies with a huge disease burden worldwide. Despite the progress made in the field of cancer therapeutics, there is clearly a significant unmet need for new drugs and therapies to improve upon the efficacy of available anticancer agents and reduce the toxicity of current regimens, with an overall goal of improving the treatment outcomes of GI malignancies.
Immunotherapy is a novel treatment strategy that is emerging as an effective and promising treatment option against several types of cancers. Sir William Coley was the first to use a bacterial immunotoxin to treat a patient with neck sarcoma in 1898 [
1
]. More recently during the last decade, immunotherapy has shown encouraging results in various tumor types. This progress is largely attributed to identification of new immune-based targets, coupled with our enhanced understanding of tumor immunology and the tumor microenvironment [
2
]. Cytotoxic T lymphocyte protein-4 (CTLA-4) and programmed cell death protein-1 (PD-1) are critical immune checkpoint molecules that negatively regulate T cell activation via distinct mechanisms. CTLA-4 is a co-inhibitory molecule expressed on activated T cells and T regulatory (Treg) cells. Interaction of the CTLA-4 receptor on T cells with its B7-1/B7-2 ligands on antigen-presenting cells (APCs) inhibits the CD28-mediated T cell stimulatory signal [
3
]. The inhibition of this receptor-ligand interaction using an anti-CTLA-4 antibody results in the reactivation and proliferation of T cells and also decreases the immunosuppressive Treg cells in the tumor microenvironment [
4
]. The anti-CTLA-4 antibody ipilimumab is currently approved for the treatment of melanoma. PD-1 is a co-inhibitory receptor expressed on the surface of activated T cells, Treg cells, and monocytes. It interacts with its two ligands, PD-L1 and PD-L2, to provide an inhibitory signal in T cell activation, leading to downregulation of cellular and humoral immune responses [
5
–
7
]. Increasing evidence suggests that targeting the PD-1/PD-L pathway is an effective therapeutic strategy to enhance the antitumor immune response. Antibody-mediated blockage of PD-1 or PD-L1 results in the inhibition of this checkpoint, leading to T cell activation and enhanced antitumor activity [
8
,
9
]. PD-1 pathway inhibitors are currently approved by the Food and Drug Administration (FDA) for the treatment of several solid tumors including melanoma, non-small cell lung cancer (NSCLC), renal cell carcinoma (RCC), urothelial carcinoma, and head and neck cancer. Additional potentially targetable checkpoints such as OX40, TIM3, and LAG3 are also being evaluated in ongoing preclinical and clinical studies.
This review will summarize the current clinical progress of modern immunotherapy in the treatment of various GI malignancies, with a special focus on immune checkpoint blockade.
Esophageal and gastric cancers
Multiple phase III studies involving anti-PD-1 therapy in gastric and esophageal cancers are currently in progress. KEYNOTE-061 is a randomized, open-label study designed to compare the efficacy and safety of pembrolizumab versus standard-of-care paclitaxel in the second-line treatment of metastatic or unresectable gastric or GEJ adenocarcinoma (NCT02370498). KEYNOTE-062 is another randomized phase III study containing three arms which will compare the safety and efficacy of pembrolizumab monotherapy, versus 5-FU plus cisplatin, versus all three agents combined together in the first-line treatment of PD-L1-positive advanced gastric or GEJ adenocarcinoma (NCT02494583). Another phase III trial (KEYNOTE-181) will enroll approximately 600 patients to compare the efficacy of pembrolizumab relative to single-agent chemotherapy (paclitaxel, docetaxel, or irinotecan) in patients with previously treated advanced adenocarcinoma or SqCC of the esophagus or GEJ (NCT02564263).
Colorectal cancer
Epigenetic priming using inhibition of histone deacetylases (HDAC) and DNA methyltransferases (DNMT) can induce susceptibility to immune checkpoint therapy in preclinical models. This is being evaluated in an ongoing pilot study that combines 5-azacitidine (DNMT inhibitor) or romidepsin (HDAC inhibitor) or both with the PD-1 inhibitor pembrolizumab in MMR-proficient advanced CRC (NCT02512172).
Pancreatic cancer
Hepatocellular carcinoma
Conclusions
GI malignancies have been traditionally considered to be poorly immunogenic; however, increasing evidence now suggests that these tumors are recognized by the immune system. Immune checkpoint blockade with antibodies targeting B7 immunoglobulin superfamily molecules such as CTLA-4, PD-1, and PD-L1 is showing promising clinical activity in multiple GI tumors including esophageal, gastric, colorectal, and liver cancers. In fact, one of the most significant achievements witnessed in the field of immunotherapy has been the success of PD-1 pathway blockade in MSI-Hi colorectal and non-colorectal tumors [
76
]. The therapeutic strategy of combining immune checkpoint inhibitors with additional immunostimulatory therapies, targeted agents, chemotherapy drugs, or radiotherapy appears to be a promising approach that might help further unleash the antitumor immunity against several types of GI cancers. However, treatment with such immunostimulatory therapies is not completely devoid of side effects, and cases of potentially fatal immune-related adverse events have been reported [
77
,
78
]. The identification of clinically relevant predictive and prognostic biomarkers will therefore help define subgroups of GI cancer patients who are most likely to benefit from various immunotherapeutic approaches [
79
]. This is critical for the success of immunotherapy and is therefore the focus of ongoing translational research in the field.
Acknowledgements
Not applicable
Availability of data and materials
Data sharing is not applicable to this article as no datasets were generated or analyzed during the current study.
Authors' contributions
ZWM and GG drafted the manuscript. GG revised the manuscript critically for important intellectual content. Both authors read and approved the final manuscript.
Competing interests
The authors declare that they have no competing interests.
Consent for publication
Not applicable
Ethics approval and consent to participate
Not applicable
Publisher's Note
Springer Nature remains neutral with regard to jurisdictional claims in published maps and institutional affiliations.
Open Access
This article is distributed under the terms of the Creative Commons Attribution 4.0 International License (
http://​creativecommons.​org/​licenses/​by/​4.​0/​
), which permits unrestricted use, distribution, and reproduction in any medium, provided you give appropriate credit to the original author(s) and the source, provide a link to the Creative Commons license, and indicate if changes were made. The Creative Commons Public Domain Dedication waiver (
http://​creativecommons.​org/​publicdomain/​zero/​1.​0/​
) applies to the data made available in this article, unless otherwise stated.