31.07.2018 | Original Article | Ausgabe 4/2018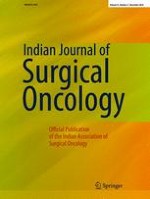 Safety and Efficacy of Low-Dose Single-Agent Capecitabine in Inoperable Gallbladder Cancer with Jaundice Post-Single-System Single-Catheter External Biliary Drainage: a Pilot Study from a Highly Endemic Area
Zeitschrift:
Autoren:

Ravi Gupta, Akshay Anand, Manoj Kumar, MLB Bhatt, Sudhir Singh, Abhinav Arun Sonkar
Wichtige Hinweise
Previous Abstract Presentation
Role of low-dose capecitabine in inoperable cancer gallbladder in presence of jaundice: a pilot study from endemic world. A Sonkar, J Kushwaha, M Kumar, A Chandra, R Gupta, D Singh, A Kumar, A A Agarwal. Annals of Oncology 24 (suppl 4), iv74-iv74. (Abstract in proceedings of World GI Congress).
Abstract
Gallbladder cancer (CaGB) in the subcontinent belongs to low socioeconomic status, and at the time of diagnosis, a large number is unresectable or inoperable so the palliative treatment remains the only option. In the present study, attempt was made to see the effect and safety profile of single-agent oral capecitabine in inoperable CaGB in presence of low levels of jaundice post-single-catheter transhepatic external biliary drainage. In
N
 = 35 of inoperable jaundiced CaGB, post-biliary drainage capecitabine in low dose was started when their total bilirubin levels fell to 10 mg% or below. Post-external drainage decreased bilirubin level to < 10 mg/dl within 1–4 weeks, mean 2.37 ± 0.80 weeks. Survival was 1–6 months, mean 3.26 ± 1.46 months. Catheter patency time was 1.92 ± 0.64 months (range 0–3 months). Young age, male sex, level of jaundice at presentation, and duration of decrease in jaundice after drainage were significantly associated with progressive disease course. Poor survival was significantly associated with progressive disease course, young age, and level of jaundice at admission. To the best of our knowledge, this is the first study to establish that single-agent capecitabine can be safely given in CaGB in presence of jaundice.