01.12.2018 | Research | Ausgabe 1/2018 Open Access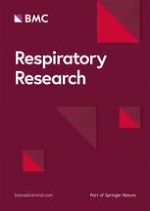 Serum sST2 levels predict severe exacerbation of asthma
Zeitschrift:
Autoren:

Masato Watanabe, Keitaro Nakamoto, Toshiya Inui, Mitsuru Sada, Kojiro Honda, Masaki Tamura, Yukari Ogawa, Takuma Yokoyama, Takeshi Saraya, Daisuke Kurai, Haruyuki Ishii, Hajime Takizawa
Wichtige Hinweise
Electronic supplementary material
Abstract
Background
Neutrophilic inflammation is associated with poorly controlled asthma. Serum levels of sST2, a soluble IL-33 receptor, increase in neutrophilic lung diseases. We hypothesized that high serum sST2 levels in stable asthmatics are a predictor for exacerbation within a short duration.
Methods
This prospective observational study evaluated the serum sST2 levels of 104 asthmatic patients who were treated by a lung disease specialist with follow-ups for 3 months.
Results
High serum sST2 levels (> 18 ng/ml) predicted severe asthma exacerbation within 3 months. Serum sST2 levels correlated positively with asthma severity (treatment step), airway H2O2 levels, and serum IL-8 levels. High serum sST2 levels and blood neutrophilia (> 6000 /μl) were independent predictors of exacerbation. We defined a post-hoc exacerbation-risk score combining high serum sST2 level and blood neutrophilia, which stratified patients into four groups. The score predicted exacerbation-risk with an area under curve of 0.91 in the receiver operating characteristic curve analysis. Patients with the highest scores had the most severe phenotype, with 85.7% showing exacerbation, airflow limitation, and corticosteroid-insensitivity.
Conclusions
High serum sST2 levels predicted exacerbation within the general asthmatic population and, when combined with blood neutrophil levels, provided an exacerbation-risk score that was an accurate predictor of exacerbation occurring within 3 months.