22.03.2017 | Research Article | Ausgabe 9/2017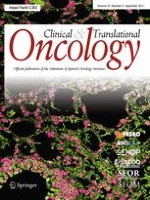 Significance of MNK1 in prognostic prediction and chemotherapy development of epithelial ovarian cancer
Zeitschrift:
Autoren:

S. Hou, P. Du, P. Wang, C. Wang, P. Liu, H. Liu
Wichtige Hinweise
S. Hou and P. Du contribute equally to this study.
Abstract
Background
Ovarian cancer is the most lethal gynecologic malignancy worldwide with surgery as the only curative treatment. Long-term overall survival (OS) of ovarian cancer is far from satisfactory, even though significant improvement has been made in post-operative chemotherapy. One of the most important death cause is the chemoresistance due to consecutive chemotherapy. Therefore, understanding the molecular mechanisms involved in ovarian cancer development and identification of novel therapeutic targets are urgently required.
Methods
Immunohistochemical (IHC) staining was used to explore the expression pattern of mitogen-activated protein kinase (MAPK)-interacting kinase 1 (MNK1) in tumor tissues from 138 epithelial ovarian cancer (EOC) patients. Clinicopathological data were subjected to Kaplan–Meier survival and Cox multivariate analyses to evaluate the prognostic value of MNK1 in EOC. Overexpression and silencing procedures were performed on OVCAR-5 cells to investigate the mechanisms of MNK1 in regulating EOC development. The anti-tumor effects of CGP57380, a specific MNK inhibitor, were examined by cell viability assay.
Results
Higher MNK1 expression showed significant relationship with advanced FIGO stage and positive lymph node metastasis of EOC. Univariate and multivariate analyses revealed that MNK1 was an independent prognostic factor for OS of EOC patients. In vitro study demonstrated that MNK1 can promote cell proliferation through regulating the phosphorylation level of eukaryotic initiation factor 4E. In addition, inhibition of MNK1 by CGP57380 significantly down-regulated the OVCAR-5 cell viability.
Conclusion
High MNK1 expression in EOC tissues indicates poor clinical outcomes, and MNK1 can act as a potential target for novel chemotherapy development towards EOC.