01.12.2017 | Research | Ausgabe 1/2017 Open Access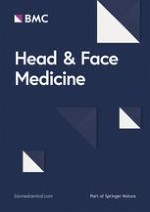 Single tooth torque correction in the lower frontal area by a completely customized lingual appliance
Zeitschrift:
Autoren:

Collin Jacobs, Milena Katzorke, Dirk Wiechmann, Heiner Wehrbein, Rainer Schwestka-Polly
Abstract
Background
Aim of this study was to analyze the efficacy and precision of the completely customized lingual appliance (CCLA) regarding the single tooth torque correction. The study also examined external apical root resorptions as possible side effects of torque correction and the changings of the periodontal situation.
Methods
A case series of three patients were included. The patients showed a single tooth torque problem with a gingival recession and were treated with the CCLA. Plaster casts before and after treatment and plaster casts of the set up were scanned and superimposed. Deviations between the two plaster casts were analyzed at different points of interest. Changes of the gingival recession were compared before and after treatment. Relative root resorptions were measured by the orthopantomograms. Treatment times were assessed by the records of the patients. Results were presented descriptively.
Results
The mean change of the most apical part of the root reached by the orthodontic treatment was 1.8 ± 0.3 mm. The largest deviation between set up and final model was measured on the occlusal surface of the tooth 36 with 0.8 mm. Most measurement points showed a deviation of 0.5 mm or less. The depths of the gingival recession showed a significant reduction of 4.7 mm. The widths of the gingival recession were reduced by 1.1 mm. The average relative root resorption of the corrected teeth was 2.7 ± 1.5%. The average treatment time was 13.8 ± 4.5 months.
Conclusions
This is the first study showing that the CCLA with its high precision is very effective in correcting single tooth torque problems. Orthodontic torque correction resulted in a significant reduction of gingival recessions and caused only negligible root resorptions.