01.12.2014 | Research | Ausgabe 1/2014 Open Access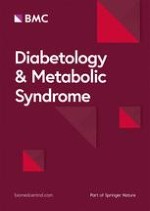 Sitagliptin prevents aggravation of endocrine and exocrine pancreatic damage in the Zucker Diabetic Fatty rat - focus on amelioration of metabolic profile and tissue cytoprotective properties
Zeitschrift:
Autoren:

Cristina Mega, Helena Vala, Paulo Rodrigues-Santos, Jorge Oliveira, Frederico Teixeira, Rosa Fernandes, Flávio Reis, Edite Teixeira de Lemos
Wichtige Hinweise
Electronic supplementary material
The online version of this article (doi:
10.​1186/​1758-5996-6-42
) contains supplementary material, which is available to authorized users.
Flávio Reis and Edite Teixeira de Lemos contributed equally to this work.
Competing interests
The authors declare that they have no competing interest.
Authors' contributions
CM, FT, RF, FR and ETL conceived and designed the study protocol. CM, HV, PR-S, RF, FR and ETL participated in the animal handling and biochemical laboratory assays. HV and PR-S coordinated the histopathological and gene expression studies, respectively. CM, HV, JO, FR and ETL analyzed the data. CM, JO, RF, FR and ETL prepared the manuscript. FR and ETL equally contributed to the work and are co-last authors and co-responsible for the work and manuscript. All authors read and approved the final manuscript.
Abstract
Background
The purpose of this study was to investigate some of the possible mechanisms underlying the protective effects of a dipeptidyl peptidase IV (DPP-IV) inhibitor, sitagliptin, on pancreatic tissue in an animal model of type 2 diabetes mellitus (T2DM), the Zucker Diabetic Fatty (ZDF) rat, focusing on glycaemic, insulinic and lipidic profiles, as well as, on apoptosis, inflammation, angiogenesis and proliferation mediators.
Methods
Male obese diabetic ZDF (fa/fa) rats, aged 20 weeks, were treated with sitagliptin (10 mg/kg bw/day) during 6 weeks and compared to untreated diabetic and lean control littermates. Metabolic data was evaluated at the beginning and at the end of the treatment, including glycaemia, HbA1c, insulinaemia, HOMA-beta and TGs. Endocrine and exocrine pancreas lesions were assessed semiquantitatively by histopathological methods. Pancreas gene (mRNA) and protein expression of mediators of apoptotic machinery, inflammation and angiogenesis/proliferation (Bax, Bcl2, IL-1β, VEGF, PCNA and TRIB3) were analyzed by RT-qPCR and/or by immunohistochemistry.
Results
Sitagliptin treatment for 6 weeks (between 20 and 26 week-old) was able to significantly (
p
 < 0.001) ameliorate all the metabolic parameters, by preventing the increase in blood glucose and in serum TGs contents (16.54% and 37.63%, respectively, vs untreated), as well as, by preventing the decrease in serum insulin levels and in the functional beta cells capacity accessed via HOMA-beta index (156.28% and 191.74%, respectively, vs untreated). Sitagliptin-treated diabetic rats presented a reduced pancreas Bax/Bcl2 ratio, suggestive of an antiapoptotic effect; in addition, sitagliptin was able to completely reduce (
p
 < 0.001) the pancreas overexpression of IL-1β and TRIB3 found in the untreated diabetic animals; and promoted a significant (
p
 < 0.001) overexpression of VEGF and PCNA.
Conclusion
In this animal model of obese T2DM (the ZDF rat), sitagliptin prevented β-cell dysfunction and evolution of pancreatic damage. The protective effects afforded by this DPP-IV inhibitor may derive from improvement of the metabolic profile (viewed by the amelioration of glucose and TGs levels and of insulin resistance) and from cytoprotective properties, such as antiapoptotic, anti-inflammatory, pro-angiogenic and pro-proliferative.